By Henry Umoru
ABUJA—DEPUTY Senate President, Ike Ekweremadu, said, yesterday, if Africa must get it right, it has become imperative for the adoption of what he described as a hybrid of the presidential and parliamentary systems.
According to Ekweremadu, the proposed system will have safeguards, such as single term, rotational presidency, proportional representation, vote of no confidence in place of rigorous impeachment processes to better guarantee democratic governance and constitutionalism.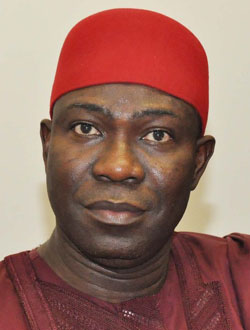 Ekweremadu, who prescribed far-reaching constitutional reforms as panacea for the challenges of leadership and development in Africa, however, observed that even though many African countries, Nigeria inclusive, had recorded relative success in reviewing the constitution, the issues that plague the continent can hardly be fully resolved by way of constitutional amendments.
Ekweremadu spoke in New York, Monday night, while delivering the 10th anniversary lecture of the Centre for Media and Peace Initiatives, entitled Constitutionalism and the Challenges of Leadership in Africa: An Evaluation of Tested Models.
In a statement yesterday by his Special Adviser, Media, Uche Anichikwu, the Deputy Senate President said salient features in Africa, such as weak, ineffective and overbearing leaders, ethnic irredentism, agitations for partitioning, restructuring, systemic injustices and inequities, will never go away unless constitutionalism, based on appropriate constitutions, are entrenched to address the factors that breed them.