By Simon Ebegbulem
GOVERNOR Godwin Obaseki of Edo State has attributed the successes recorded by his administration as it clocks one year next month to the cooperation he has enjoyed from his deputy, Mr. Philip Shaibu and the Secretary to the State Government, Osarodion Ogie, describing the duo as the engine room of his administration.
Obaseki, who disclosed this when he paid a thank you visit to Egor and Ikpoba Okhai Local Government Area where the SSG hails from, promised to kick-start the development of an Industrial Park at Ologbo in the LGA, as part of activities to mark his one-year anniversary in office.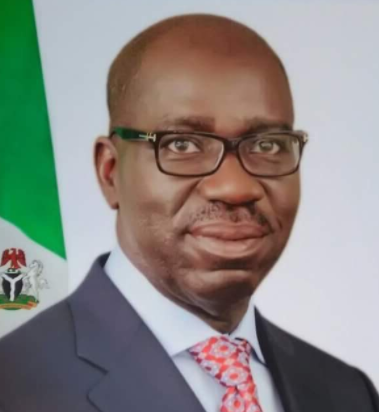 Addressing APC members in Ikpoba Okhai, Obaseki said: "I am happy that the SSG, Osarodion Ogie, is from this local government. You call me 'Wake and see, Governor'. For your information, I sleep, but you have to thank your son, the SSG and the Deputy Governor, Philip Shaibu, because, while I am sleeping, they are awake and should be commended as they are responsible for what you see when you wake up."
Commending the local government for ensuring that the party won in its 10 wards during last year's governorship election, Obaseki said his administration will lay the foundation for an industrial park at Ologbo and create jobs for the teeming youths.
The governor awarded N500,000 to Ward 7 for securing for the party the highest number of votes during the governorship election. Ward 10 got N500,000 for the highest percentage of votes, while other wards got N100,000 for their efforts.
The APC Chairman in the LGA, Mr. Eric Osayande, thanked the governor for his developmental strides in road construction in just 10 months of leadership, adding, "We thank you for the ongoing construction work on roads in the local government area.