By Sam Eyoboka
CATHOLIC Archbishop of Lagos, Most Rev. Alfred Adewale Martins, yesterday, in Lagos urged President Muhammadu Buhari to redeem his anti-corruption stance, which has come under severe criticisms lately by those who believe he is shielding his political friends from prosecution.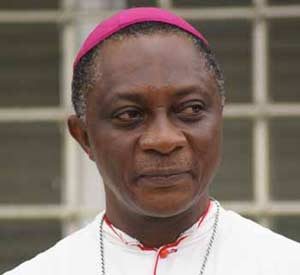 Addressing newsmen at the Holy Cross Cathedral on activities marking the centenary of the Fatima Apparitions and closing ceremony of Marian Year celebration, which will end with special prayers for the church, Lagos State and Nigeria in general at the National Stadium in Lagos on October 28, the cleric said Nigeria can be likened to a sheep without a shepherd.
He argued the Federal Government must reciprocate the goodwill it enjoyed from Nigerians who generously gave it the mandate in 2015 based on the change mantra by thoroughly investigating all cases of corruption irrespective of who is involved.
He further argued that Nigerians are still awaiting the white paper on the Vice President Yemi Osinbajo investigation panel on suspended Director-General of National Intelligence Agency, NIA, Ayo Oke; Secretary to the Government of the Federation, SGF, Babachir David Lawal, as well as the discovery of N13.3 billion  in Ikoyi Towers by Economic and Financial Crimes Commission (EFCC).
He said: "The onus is now on President Buhari to prove to the entire world that he is sincere about the war against corruption and not covering reports of corruption allegations against people perceived to be close to him.
"The economy of the nation is yet to find steady growth, there are agitations all over the nation calling for change in the mode of governance."