The Minister of Agriculture and Rural Development Chief Audu Ogbeh on Thursday called for increased collaborations between Universities of Agriculture(UAs) and relevant agencies of the government as part of efforts to boost agriculture in Nigeria.
Ogbeh made the call in Abeokuta while delivering a lecture organised as part of activities for the 23rd, 24th and 25th combined Convocation ceremonies of the Federal University of Agriculture, Abeokuta (FUNNAB)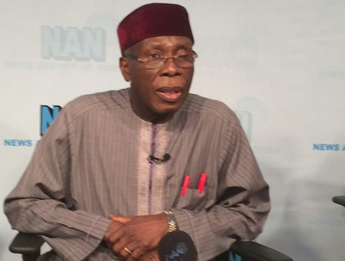 "The Universities of Agriculture should probably be our most important partners in the agricultural sector because agriculture cannot thrive without knowledge.
"We are determined to remodel the UAs as nodal centres of excellence and I assure you that our approach will be friendly and inclusive.
"We are concerned with mobilising the youth for agriculture.
"The UAs are fertile grounds for the accomplishment of this objective and that is why I have directed that the UAs should review their curricula and grading system to give more weight to practical agricultural activities rather than mere theory.
"I therefore seek your cooperation in ensuring that this university and the other two are truly remodeled and focused as specialised institutions of agricultural education and training in line with the vision of the founding fathers,''he said.
The minister particularly sought the expertise of FUNNAB in the area of research and innovation, saying that the challenges in the agricultural sector required new frontiers of knowledge for significant breakthroughs.
Ogbeh also asked the institution to compliment the ministry with knowledge on more efficient utilisation of resources, especially in the area of interconnection between land and land- base resources.
The minister also decried alleged deviation of the AUs from their core mandates, describing it as "a dangerous signal and a disincentive to agricultural development in the nation''.
Nigeria has three universities of Agriculture namely the Federal University of Agriculture, Abeokuta (FUNNAB), Federal University of Agriculture, Makurdi and the Michael Okpara University of Agriculture, Umudike,Abia state.
He listed the areas of departures as including departure from the provisions of the original statute establishing the AUs, departure from the original academic and programme structure and departure from best global practices.
"Until the recent policy change, the institutional structure and functions of the UAs show a marked departure from both the norm in implementing the concept of UAs in other parts of the world.
"I urge FUNNAB and the two other UAs to take advantage of their reintegration into the Ministry of Agriculture and get enlisted as our reliable allies in the agricultural sector,'' he said.
Ogbeh promised that the Ministry of Agriculture would build a dam and blocks of hostels in the school.
He also promised to provide mini- tractors at 60 per cent discount as well as develop the institutions' seed faculty for production of more improved seedlings among other areas of support. (NAN)