By Henry Umoru
ABUJA— AHEAD of the presentation of 2018 Appropriation Bill to the National Assembly for scrutiny and subsequent passage, senators, yesterday, lampooned some members of the executive in their handling of budgets, saying many of them were suffering from military hangover.
They also spoke on lack of training equipment at the Power Training Institute, adding that the executive was quick to condemn inputs into the national budget by the lawmakers, declaring that the law is on the side of the National Assembly to produce budgets.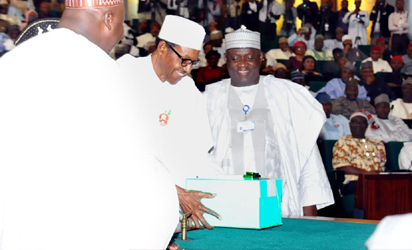 The senators spoke as the Senate, yesterday, concluded arrangements to summon Minister of Power, Works and Housing, Mr Babatunde Fashola, as part of moves to address concerns raised by power Distribution Companies, DISCOs, over electricity pricing.
Members of the Senate Committee on Power, Steel Development and Metallurgy spoke in Port Harcourt, yesterday, during a tour of the Afam Regional Training Centre of National Power Training Institute of Nigeria.
Speaking on behalf of six other senators, Chairman of the committee, Senator Enyinnaya Abaribe, noted that the lawmakers were concerned about the plight of agencies such as the training institute that was central to the power sector.
According to him, claims by the executive that the National Assembly lacks the power to redistribute or insert items into the budget amounts to a carryover from the military government.
Senators on the tour included Enyinnaya Abaribe, Clifford Ordia, Mao Ohuabunwa, Suleiman Hukunyi, Ahmed Ogembe, James Manager and Abubakar Kyari.
Abaribe said the executive could have challenged the powers of the lawmakers in court over the issue if it was sure of victory.
Senate moves to summon Fashola
Meanwhile, the Senate has concluded arrangements to summon Fashola as part of moves to address concerns raised by DISCOs, over electricity pricing.
According to the Senate, the meeting with Fashola has become very imperative as the Senate Committee on Power, Steel Development and Metallurgy is seeking ways of addressing the contentious issue of electricity tariff.
It also noted that fluctuations in pricing was affecting the power sector.
Disclosing this, yesterday, during a tour of Power installations under the Port Harcourt Electricity Distribution Company, PHEDC, in Port Harcourt,Abaribe told officials of PHEDC that his committee was out to resolve the question of differentials between the money payable to generation companies and other stakeholders by the DISCOs.
Zero billing for vulnerable Nigerians
He said: "Part of your corporate social responsibility is to ensure that the people in places where you do business are part of your campaigns. These problems are peculiar to our system.
"People now use transformer oil to fry akara and even cook. There are places in Nigeria where these things happen. We need to educate people on the dangers of these things. DISCOs need to carry out more awareness programmes to educate their people.
"We must begin to differentiate between the rich and the poor. The most vulnerable in the society should not pay. There is a place in Brazil where poor people stay. We visited them. We discovered that the whole community was connected, but they were not paying. We should have that system here."