By Emem Idio
YENAGOA—Bayelsa State Government, yesterday, said it had uncovered over N322 million monthly  payroll fraud in the eight local government areas  of the state following a verification exercise by the state government.
Governor Seriake Dickson, who disclosed this at an event to mark this year's World Teacher's Day in Yenagoa, said that the massive fraud in the local government system and the shortfall in the allocation to the councils were responsible for the inability of the councils to pay salaries of primary school teachers and other council workers in the state.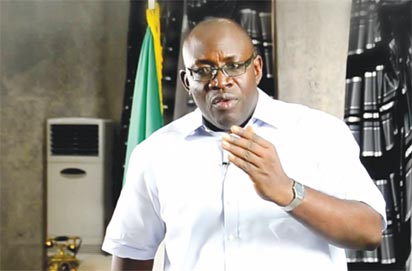 The governor who was represented by the Commissioner for Education, Mr. Jonathan Obuebite, also appealed to the striking primary school teachers in the state to suspend their five weeks old strike in the interest of the pupils and give the state government some time to address the matter by implementing the recommendation of the report.
As part of the recommendations, he said, a Joint Account will be open where all the councils will domicile the funds for the payment of primary school teachers while the state government will augment the difference, adding that the state government cannot take over the responsibility of teachers salaries as it was a constitutional responsibility of the councils.
He said: "A special verification committee for the local governments set up by the state government has submitted its report and has uncoverd a wastage of over N322 million every month that people are taking from the system and that is the reason councils cannot pay salaries. The government has decided that this monster will be fought to a standstill. The committee report will be submitted to a special Judicil Committee of Inquiry and we are going to address this issue once and for all.
"The councils wage bill for the month is about N1.2 billion when you minus N300 million from it, that will drastically bring their salary bill to less than N1 billion and the allocation that comes to all the councils is less than N1 billion.
"This discovery will help shoulder the burden but as a government and in other to ensure accountability and transparency , a special account is to be open where all the councils will pay their contributions and the state government will bring its part to augment the shortfall, and the committee will now dispense the funds to the teachers in the state, with this we would have solve the problem we are having."