By OSA AMADI
It was an exhibition, not of artworks, but of some old generation of artists and founders of Society of Nigerian Artists (SNA), when T.A Fasuyi in association with SNA, last Friday celebrated Professor Bruce Onobrakpeya at 85 and Dr. Kunle Filani at 60.
The occasion was also used to remember the September 29, 1957 Lalupon train disaster (exactly 60 years that day) which claimed the lives of many artists who boarded the train.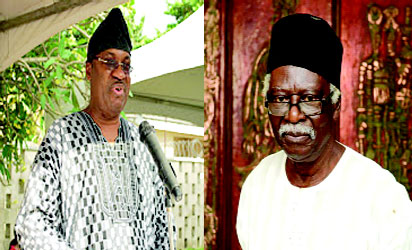 Giving the rationale for organizing the event, T.A Fasuyi said "we have all been seeing Bruce Onobrakpeya win awards and honoured by others, but what have we done to celebrate him as colleagues?" Fasuyi said Dr. Filani was asked to join the celebration so that "as we are celebrating the old we will also be celebrating the new." He therefore advised younger artistes to emulate the older ones by working hard. Art, he said, is 50 percent talent and 50 percent hard work.
Assistant Professor Salubi Onakefe who spoke after Fasuyi challenged the younger artists and generation to take after the masters who were being celebrated.
Famous artist, Kolade Oshinowo, also spoke. He expressed gratitude to Bruce Onobrakpeya for "mentoring a lot of us because he was consistence and pays so much attention to his works. "When you walk with Bruce," said Oshinowo, "you will have to be running to meet up with him." He also praised Fasuyi for his diligence and commitment to work.
Speaking also, Art collector, Prince Yemisi Shyllon, said "we owe a lot to Bruce Onobrakpeya. He is the kind of people we should honour. He is leaving behind a name and he is not subsumed in the culture of other nations."
Expressing his gratitude, Dr. Filani said he was struck by Fasuyi's humility in inviting "a small boy like me to be part of this, and also of Bruce's humility of allowing his name to be joined with my own name to be celebrated together." Dr. Filani recalled a certain press interview where Bruce was asked about what he experiences, and he replied: 'I no longer experience. I only express.'
Continuing, Dr. Filani said Bruce Onobrakpeya's art has been described as poetic expressions. He noted that Fasuyi and Bruce are founders of Society of Nigerian Artists.
In his own speech, Bruce Onobrakpeya thanked Fasuyi for "playing a fatherly role in my life, even before I understood what art was. He has also played a role model to a whole generation of artistes. We worked very hard to change people's impression that artists are nobody. Formerly, if you were an artist and you wanted a wife, nobody will give you that wife."
Bruce also praised Dr. Filani for his academic excellence and Prince Yemisi Syllon for being "one of the people that made Lagos a micro center of art and for building a museum. "Art," Bruce said, "has a psychological power to rejuvenate the mind. Art is built on ideas. Listen to ideas. When you have very strong ideas, which come by interactions with one another and from your roots, you will excel."
The toast was given by Dr. Kunle Adeyemi, Dean, School of Art, Design & Printing, Yaba College of Technology, who sang a song for the celebrants and advised younger artists to get closer to the older ones.