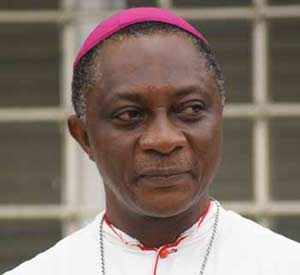 Archbishop Adewale Martins
By Sam Eyoboka
THE Catholic Archdiocese of Lagos took advantage of the 57th independence anniversary celebration to reinvigorate its Catholic Agora Social Media Network, the first privately owned Catholic Social Media in Africa, which was formally unveiled on August 4, 2017 by Archbishop Alfred Adewale Martins.
The investiture ceremony of about 16-member Catholic Agora Board of Benefactors to assist the Archdiocese to retool the online platform in the mould of Facebook designed to serve the needs of Catholic faithful, was also used to raise funds for the management of the Catholic Agora Social Media.
In his address, the Catholic Archbishop of Lagos, Most Rev. Alfred Adewale Martins, disclosed that the idea of the Catholic Agora was not accidental but rather a response to the special place of the archdiocese as the most vibrant in the country and the hub of media related activities.
"Our archdiocese is growing by the day, both spiritually and in terms of infrastructural development," he noted, stressing that there is therefore the urgent need to harness all the various groups in "our Archdiocese through timely exchange of information, ideas and sharing of knowledge about our faith so that we can be better grounded spiritually and administratively."
He also revealed that the inspiration of the Catholic Agora  actually derived from Emeritus Pope Benedict XVI message to all Catholic faithful during the 47th World Communication Day, when he urged the faithful to embrace the social networks as the new expectations, especially Catholic website space for evangelism.
According to the Archbishop, the Pope Emeritus then pointed out the special features that would support family relationships, fellowship and dialogues, not forgetting profile pages, activities, Online TV, membership directory, forums, games, photo gallery, job board, video chat, On-Bible and Online Radio among others.
Aadewale further explained that the Catholic Agora social media is designed to connect the Archdiocese to the ecosystem (pubic social media), clergy, laity, society and others with guidelines on users as regards to minors and vulnerable in the society. The managers have a firm control over the contents, the ads messages and images in conformity with the Catholic faith and teachings.