The National Coordinator APGA Media Warriors Forum, Evang Chinedu Obigwe, Wednesday charged the minister of labour, employment and productivity, Sen. Chris Ngige to trade words with caution, noting that his vulgar dictions used against Governor Willie Obiano of Anambra state during their APC flag off campaign in Onitsha was untrue, befouling and tainting to the hard earned reputation of the governor.
Dr Chris Ngige while speaking at the APC rally was alleged by Obigwe to have said that "Gov. Obiano is a 'Governor Do Nothing' which with Federal support APC will make APGA to cry on November 18th."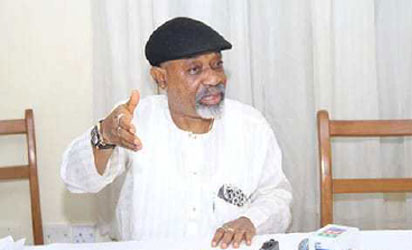 While reacting to the statement allegedly credited to Dr. Ngige, Obigwe in a statement issued to newsmen on Wednesday morning said "Ngige thought Nigerians are fools with short memories. He is morally decayed to criticize Governor Obiano after being disgraced, stoned, nick-named ole by the Federal Civil servants during workers day celebration at Eagles square.
"Look at this minister, after all that happened to him at Eagle's square, he still has the panache and effrontery to throw tantrums to the working Governor Obiano at APC campaign flag off because he thought everyone is insane", he said.
Read his statements in parts:
"Sen. Ngige's assertion that APC will make APGA to cry is a confirmation that they have concluded plan to use Federal might to subvert the democratic will of Anambra electorates on November 18th.
" APC's only hope of defeating APGA in Anambra State is by rigging the forthcoming election and I charged Anambra electorates to resist the rigging plot of APC for the protection of their future and that of their children.
"I believe that Anambra people will vote for Governor Obiano and watch their vote vigilantly to avoid rigging.
"The only way APC will rig the November 18th election and go scot free is by killing the whole people of the State and then govern an empty State. This November 18th election is a battle between the light and darkness.
"APC Governorship candidate, Tony Nwoye represents darkness while Governor Obiano represents light and that light will definitely dispel darkness from Anambra State on November 18th.
"In Anambra State the word change is a taboo because the people of the State are happy with Governor Obiano's administration delivery of dividends of good governance in the State and that they are supporting him to continue his transformation of the State till 2022.
"My advice to Sen. Ngige and all APC members is to stop dreaming for the seat of Governor in Anambra state.
"With the hatred of the people of the State for APC their chances of winning the November 18th election can be likened to a camel passing through the eye of a needle"he finally wrote.