By Vincent Ujumadu
IT was indeed a glorious day for one of Nigeria's elder statesmen and foremost diplomat, Chief Emeka Anyaoku, last week when authorities of the Nnamdi Azikiwe University, Awka, named the proposed university's Institute of International Studies and Diplomacy after him.
At the colourful ceremony which took place at the UNIZIK auditorium, Anyaoku, who was the third Secretary-General of the Commonwealth, was elated at the encomiums poured on him by friends and associates who graced the occasion in large numbers.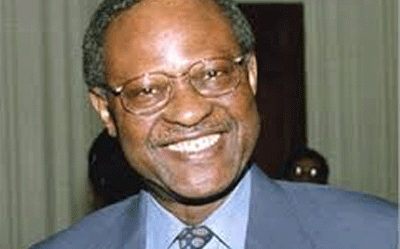 The list of personalities at the ceremony included Anambra State governor, Chief Willie Obiano, former head of state, General Abdulsalam Abubakar, former Chief of Army Staff, General Theophilus Danjuma, former Minister of External Affairs, General Ike Nwachukwu (retd), who chaired the ceremony, former President General of Ohaneze, Professor Joe Irukwu, incumbent President General of Ohanaeze, Chief Nnia Nwodo, former Ambassador to the US, Professor George Obiozor, former Chief of General Staff, Commodore Ebitu Ukiwe, former Minister of Power, Professor Chinedu Nebo, Obi of Onitsha, Igwe Nnaemeka Achebe, traditional ruler of Awka, Obi Gibson Nwosu, traditional ruler of Ndikelionwu, Eze (Prof) Vincent Ike; Eze Obosi (Anyaoku's community), Igwe Chidubem Iweka, former Pro-Chancellor of Chukwuemeka Odumegwu University, Professor Elochukwu Amucheazi and traditional ruler of Nnewi, Igwe Kenneth Orizu. Captains of industry including Aliko Dangote, Tony Elumelu, Jim Ovia, among others, were represented.
The Institute, which would house such facilities as an e-library, a 50-room guest house, standard lecture halls, auditorium, among others, would cost N1.5 billion. It is being sited at a choice area in the expansive university ground. Vice-Chancellor of the university, Professor Joseph Ahaneku, while welcoming guests said the idea to establish the institute was borne out of the need to preserve the legacies Chief Anyaoku achieved during his lifetime. Ahaneku said it was an immense honour for UNIZIK that the Institute, which would be the first of its kind in this part of the country, was domiciled in Nnamdi Azikiwe University.
Ahaneku said: "Today's auspicious event marks a quantum leap forward in the discharge of the university's core mandate of teaching, research and public service. A synopsis of Chief Emeka Anyaoku's post-graduation life, all of which was diplomatic service, justifies the naming of this institute after him. In the light of sterling diplomatic contributions of Chief Anyaoku towards promoting democracy, good governance and world peace, it is appropriate and heart- warming that a structure/institution dedicated to the pursuit of this field of human endeavour to which he committed his work life and located in his home country, be named after him, to immortalise him and inspire the upcoming generation."
Chairman of the occasion and a former foreign minister, Major-General Ike Nwachukwu (retd) said though Anyaoku never lobbied to represent Nigeria at the Commonwealth, he nonetheless performed creditably to the pride of Nigeria. Nwachukwu said: "You talk of someone who you can rely upon, here he is seated. You talk of a man who knows how to deal with issues when things are wrong and going haywire among nations and bring us back to focus, here he is seated. You talk of a man who is a consummate diplomat, here he is seated. You talk of a great man, a great ambassador of Nigeria, here he is seated. Most people won't know you didn't ask for this job.
"As a foreign minister, it was when we heard of an opening that we came to his then boss, to inform him that I had come to discuss matters regarding the dismantling of apartheid in South Africa. We told his boss that we were not going to support him for the fourth time and that we were putting up Emeka Anyaoku as the Secretary-General. He then asked if Emeka Anyaoku knew about it and I said, no; that I was just coming from his office and I didn't tell him. I told him the message was for him from President Babangida. Eventually, the Heads of State of the Commonwealth voted overwhelmingly for Anyaoku and he came out tops. Under him, the Commonwealth became such a wonderful body."
He also commended Anyaoku's role in promoting unity in Nigeria, describing him as one person who believes in one united Nigeria. Talking about Nigeria in relation to Anyaoku's perception, Nwachukwu further said: "This is the country we want to build, a country united where our diversity can only be our strength to make our country stronger and better. Yes indeed, we need a country that all Nigerians will feel happy to live in, feel happy to defend; a country based on equity, fairness and justice. And today represented here are great Nigerians who have put in so much to further Nigeria's nationhood."
International recognitions
According to Nwachukwu, "If there is any time in our history that we require an Institute of International Studies and Diplomacy, it is now. Little wonder, therefore, that it is being named after our very best diplomat. Nigeria requires diplomacy; Nigeria requires international recognitions, and Nigeria requires young men and women that will drive this, bind us together, take us all to the comity of nations and tell the world that we are not all 419ers; that we are not all thieves in this country."
Anambra State governor, Chief Willie Obiano, described Anyaoku as one person who would not be afraid to express his view on any issue, adding that as the chairman of the Anambra Elders Council, Anyaoku had been one of the key advisers to his government. He said, "I want to especially thank Chief Emeka Anyaoku for what he has helped this administration to achieve. He is one fellow that is not afraid to advise you and he is also a no-nonsense fellow. You cannot push him around. If he believes in something, he tells you he believes in it and if he doesn't he tells you. I thank you for guiding this administration.
"Anything Anyaoku touches turns to gold and that is why we believe that as the chairman of Orient Petroleum Resources, that is part of the state's proposed Airport City, Anyaoku's contributions will ensure quick realisation of the project. Even Her Majesty, Queen Elizabeth II testified to Anyaoku's exemplary quality as a diplomat, especially during his 10-year service as Secretary-General of the Commonwealth. The Queen wrote about Anyaoku in 1999: "You have been a warm spirited and energetic leader working tirelessly to build the Commonwealth into an essential intent to prove to the world that the Commonwealth is a truly international body. As we prepare to bid you farewell next year, may I express our gratitude to you for all you have achieved."
Former President Olusegun Obasanjo also wrote of Anyaoku: "I am really pleased that the University is celebrating you in this way. I think it is great to have an occasion like this where we celebrate someone's life and the contributions that he had made in the past and is still making towards the progress of the country and humanity. Of course it is an honour well deserved. Your deep knowledge and wide experience of international affairs, as well as firm commitment to the Commonwealth speak for themselves as demonstrated by your brilliant and highly productive term as its Secretary-General. We are all proud of you."
Right hand man
Former Chief of Army Staff, General Theophilus Danjuma, described Anyaoku as his right hand man in the Presidential Advisory Council established by former President Goodluck Jonathan where they both served. To him, that Council was one of the wisest things President Jonathan did, even as he regretted that the former President virtually did not make use of the recommendations made by the Council. Danjuma said: "If you need a diplomat and you have Emeka in your team, look no further. If you need a team with a builder and you have Emeka among the advisers, look no further. I congratulate you and I congratulate the university."
In his speech, elated Anyaoku observed that Nigeria had all it takes to be a leading country in the world if her citizens could solve the numerous challenges facing her.
While commending the university for the honour, Anyaoku hoped that the institute would provide facilities for teaching and learning diplomacy, as well as studies on interdependence among Nigerian tribes to promote unity in the country.
He said: "It is an immense pleasure for me to be on the grounds of this university that bears the name of Africa's most illustrious son, Dr. Nnamdi Azikiwe, and I am truly humbled to be given a lifetime honour by this university. I often say that at the age of 84 years, I have entered the departure lounge, but my prayer is that my flight should be delayed much longer."
Anyaoku, who said that he had been involved in diplomatic life for over 50 years, expressed happiness that he had been part of conflict resolution in many countries of the world, including dismantling the apartheid regime in South Africa. "I have devoted over 50 years of my working life to service in international life, the core of which is promoting a cordial relationship between nations and on occasions helping to resolve political problems, both within and between nations and in addition, of course, tackling such global issues as  climate change and terrorism.
As you heard, I began of course with service to my own country Nigeria. In the course of my career, I have visited well over 100 countries experiencing serious moments and light moments," he said.
Anyaoku went down memory lane to recall one incident in 1994. He said: "I had given a lecture under the auspices of the Bangladesh Institute for International Affairs. At the end of my lecture, we came to questions and comments and one very unconventionally dressed gentleman raised his hand and I noticed that the chairman, being the Minister of Foreign Affairs was a little uncomfortable to allow him to ask his question, but he did allow him and this gentleman said: 'Tell me, I am baffled that a country that produced people like Chinua Achebe from the books I have read, Wole Soyinka, Nobel Laureate, and you the Secretary-General of the Commonwealth of Nations, has just spoken to us, I am baffled that your country is in such a mess.' The Foreign minister chairman whispered to me, 'this is an eccentric professor in the university.' I looked him straight in the face and said, 'I too I am baffled."