By Anthony Ogbonna
Acting Chairman of the Economic and Financial Crimes Commission, EFCC, Ibrahim Magu has said that the fight against corruption is "a thankless job."
Mr. Magu also said that anti-corruption fighters should never expect to be thanked for their jobs because such fights do not attract appreciation.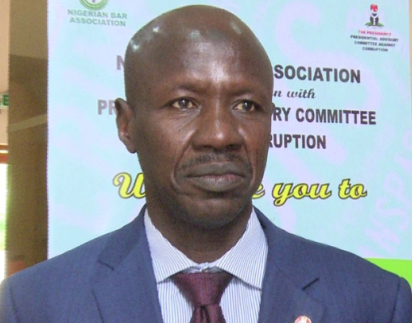 He however urged Nigerians, especially the media, to join the anti-corruption fight, saying it should not be left for the agency or few other ati-graft agencies alone.
Mr. Magu gave the statement on Friday during a forum to sensitise the public on the agency's plan launch an initiative, 'EFCC-Creative youth initiative against corruption (CYIAC); corruption busters' in Lagos.
According to him, "We want to mobilise everyone in the fight; the more people in the fight, the better," Magu said.
"I am determined in the fight against corruption. I urge other Nigerians not to get exhausted. Don't expect anyone to thank you for fighting corruption. It is a thankless job.
"Whatever weapons you have, use it against corruption. Use your strategic thinking; the fight must go on with or without me, it is not a personal thing.
"The press has a lot to do in this fight. If they do more, the battle would be half solved."
In her speech, the coordinator of CYIAC, Foluke Michael, said the initiative which would be launched on December 9 to mark the UN international anti-corruption day is "targeted at making children, youths and women meet global goals by 2030″.
According to her, "CYIAC's 2017 edition will start with an online campaign which will be followed by the launch of CYIAC APP and nationwide registration portal on Nov.ember 1 for participants between ages 9 and 14 for category 1, and 15-25 years for category 2," she said.
"Participants will also be required to submit essays, short stories or creative ideas online based on the theme: `Imagine the World free from corruption' between November 1 and December 15."