By Daud Olatunji
ABEOKUTA – Former President, Chief Olusegun Obasanjo on Monday called on Nigerians to come to the aid of some animal species that face extinction in near future.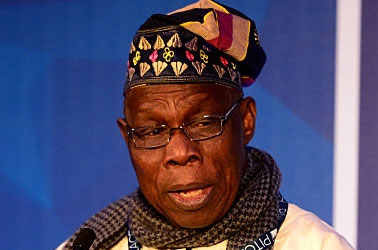 He however, adopted one of the three new born lion cubs inside the new Olusegun Obasanjo Presidential Library (OOPL), Abeokuta Wildlife Park and christened it "Aremu" his traditional name.
Obasanjo in a release by his media aide, Kehinde Akinyemi, said the naming of the lion cub also attracted a Million Naira donation for the animal upkeep.
The former President, who spoke through the Managing Director of OOPL Ventures, Vitalis Ortese at the opening ceremony of the Wildlife Park and Animal adoption (Animals Depend On People Too) on Monday, said the concept of 'adoption' of the animals in the park was aimed at recruiting individual and corporate partners who will support the Park in providing the financial resources for the preservation and care of animals that are on the brink of extinction as a result of increased human activities.
According to Obasanjo's media aide, one Prof. Afolabi also adopted another lion cub at the sum of N1m with the name "ADE" given to the animal.
The OOPL Wildlife Park is the part of the presidential library which houses over one hundred and forty indigenous and exotic animals. It was set up to encourage wildlife conservation, educate the general public, promote tourism and also support research.
The Ogun State Commissioner for Culture and Tourism, Muyiwa Oladipo also commended the efforts of the former President to bring wildlife park into the Library, noting that, "with what is happening here, one can be tempted to rename this OOPL as "Obasanjo City".
The Deputy Chief Coordinator (OOPL) Ayodele Aderinwale while speaking on the essence of introducing the wildlife park into the Library project, noting that it has been part of the focal part since commencement.
The President, National Association of Zoo And Parks (NAZAP), Dr. Morenikeji Olajumoke urged the government to brace up to the challenges facing wildlife in the country, hinting that at present, some species face extinction in the country.
He said we must do something to it fast, because of their benefits to humanity too".
"Among the animal that is fast facing extinction is the Pangolin otherwise known as bush meat . Already in China, we cannot find it anymore and they are shifting attention to Africa, particularly in Nigeria. And this is an animal that eliminates about 70m pest in our forest annually. So, if we do not quickly address this, the pest will be available to destroy our forest too," she said.
Olajumoke lamented that notable parks, like the one in Enugu State has been wiped out, with the land sold to private developers for personal houses, "but, the cheering news is that while government seems to be turning away from wildlife development, people like our Baba Obasanjo is looking into the direction.
"We must commend Baba for this and every stakeholder need to come together to save wildlife park in the country."