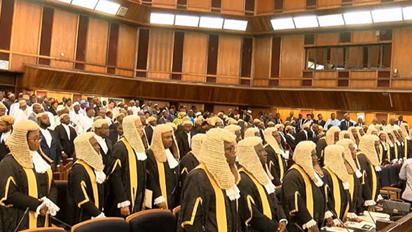 File: Picture used to demonstrate the story
By Onozure Dania
Anambra State judiciary has approved an enlarged Alternative Dispute Resolution, ADR, Committee to look into the litigation between Nkerehi and Umuchukwu over the name to call their town, which is stalling the opening of a state High Court built by an indigene of the town.
Controversy had trailed the change of name of the town from Nkerehi to Umuchukwu by some indigenes of the town, which resulted to disagreements and litigations that had consequently stalled the commissioning of the state High Court, hence the setting up of the ADR Committee by Anambra State Chief Judge,Justice Peter Umeadi, to resolve the impasse.
A statement by the Chief Registrar of Anambra State Judiciary, Mr. Lawrence Uzuodu, said: "This is a follow-up to an earlier committee put in place on July 25, during a meeting between the Chief Judge, chairmen and secretaries of the Nigerian Bar Association, NBA, branches in the state.
"The committee, which has three-point term of reference, shall invite all legal practitioners in all the suits pertaining to the debacle.
"The 14-member committee has Mr. Clifford Okoye, as Chairman; Mr. Uche Aguolu, Secretary; members: Chief Ikenna Egbuna (SAN), Chief Chris Ogom-Adimora, Chief S. U. S. Mbanaso, Professor Ogugua Ikpeze, Chief E. E. Egbunonu, Ben Okoko, Chuka Obele Chuka, Chief S. U. Anyia, Chineze Obiano, Mrs Helen Obi, Adaobinna Edozie and Deputy Chief Registrar (Special Duties) Chinelo Peters."