Amnesty International Nigeria has held an outreach to sensitise and empower the public, especially those who have been victims of torture from security operatives, on its effects on the people and on how such victims can seek redress.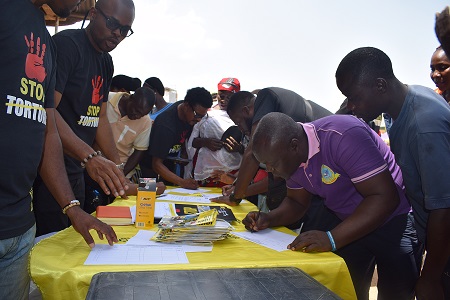 Through its Stop Torture Project, Amnesty International Nigeria held  the community outreach in Mpape community in Abuja with a panel on reporting torture and seeking justice.
The event which equally featured a drama was equally aimed at "deepening understanding of torture" among the people.
In a statement made available to newsmen by its media manager in Nigeria, Isa Sanusi, Amnesty International also said that the event was attended by leaders of various groups of Mpape community, including a victim of torture who narrated his ordeal to the gathering.
The statement quoted the organisation's director in Nigeria, Osai Ojigho, as saying "such community outreach programmes will continue to expand ways of addressing torture in Nigeria."
It said the Project co-ordinator, Onyinye Onyemobi, also said that Stop Torture project implemented across Nigeria is aimed at empowering individuals and communities to deal with and stop torture.
According to the statement, "In the last two-years of this project, Amnesty International and partners have stood between the torturers and the tortured in Nigeria. Through this project, Amnesty International Nigeria and partners have ensured that people who have been detained get to see their families, lawyers and receive medical care."
It said, "We work with lawyers, community volunteers and paralegals to ensure that victims get help as soon as possible during the crucial first 48 hours after a person's arrest. From our research, we know that the danger of torture is greatest in first few hours or days of arrest."
"So, interventions at that early point, creates the chances of stopping the torture, and ensuring the health and well-being of those detained are respected." said  Onyinye Onyemobi, Stop Torture Project Coordinator."
The statement also said that Amnesty International and its partners in different states have held community dialogues on torture in states like Rivers, Bauchi, Lagos, Plateau, Kaduna and most recently in Onitsha, Anambra state to help communities understand Torture and how to seek redress.
"Amnesty International Nigeria is in Mpape today, to educate and create awareness among community members about the effects of torture on an individual and how torture victims can seek and get help," said Onyinye Onyemobi.