By Nwafor Sunday
The National Coordinator APGA Media Warriors Forum, Evang Chinedu Obigwe on Thursday has described all the allegations made to dent the image of Governor Willie Obiano of Anambra state by his political opponents as politically motivated tissues of lies, flimflam that should be disregard, neglected and seen as unreasonable.
"The spurious allegations against Governor Obiano by his opponents are politically motivated tissue of lies that can only fly in their warped imagination."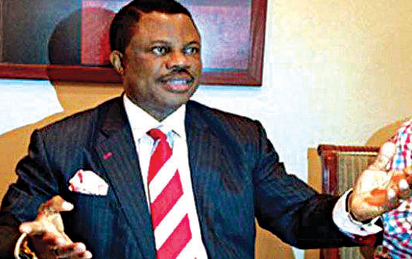 Obigwe said this in a press release issued to newsmen today. According to him, "Obiano's opponents in the November 18th election are drowning men that are desperately searching for a straw to hang on for survival."
He said that their reasons for making spurious allegations against the Governor were to paint him black before the electorates who are determined to return him to office for a merited second term.
However, with pin point accuracy he categorically said that Anambra electorates cannot fall into the booby trap of Governor Obiano's opponents, adding that their plans and missions for Ndi Anambra were evil.
Obigwe further said that no amount of politically motivated cooked up lies against Governor Obiano will save the opposition's ship from sinking on November 18th election because the people of the State will use their voting power to sink down their ship as a way of teach political lessons to political godfathers and other agents of political darkness.
He asserted that the people of Anambra State are aware of the destination Governor Obiano is taking them, thus will make them not to allow anything that will impede their movement to their desired destination.
He equally said that the Governor's opponent's mission in the State is to destroy the solid developmental foundation laid in the State by his administration hence the reason why they are resisting the opposition parties evil agenda in the State.
Obigwe finally stated that desperation made Obiano's opponents to be dancing naked by cooking up falacious allegations against him and also running their mouth flippantly against him without restraint but as a well cultured and well trained character Gov Obiano ignored their foolish ranting because his mission in Anambra State is to deliver dividends of good governance to Anambra electorates and not to bandy words with those that don't mean well for the people of the State.