"Without God on our side, without the total support of "World Cup Governor Udom" the media, Supporters and fans, we would not have achieved what has turned out to be the best season for the Club since its inception in 1997" – says Paul Bassey Chairman of Akwa United F.C.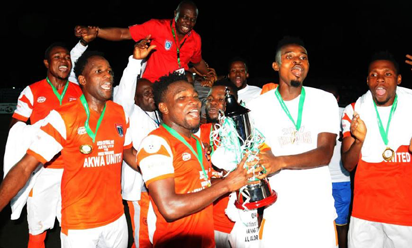 Mr. Bassey while addressing Management, Technical Crew and Players of the Club in Uyo last Saturday was full of praise for the overwhelming support he got in his first full year as Chairman of the Club."On January 1st this year (A Sunday) we took this club to God and asked Him to take control.
God responded in the affirmative and here we are."Our Aiteo Cup triumph and fourth place finish in the league ( our highest ever finish) could not have been possible without the encouragement, motivation and support of our amiable Governor Deacon Udom Emmanuel who stood by us throughout the season."We are particularly grateful to the Honorable Commissioner for Youth and Sports Sir Monday Ebong Ukoh for his belief in us and constant support to the team.
Looking back, success would have been difficult without his presence "on our bench".Our appreciation also goes to the supporters club, fans and the media community for their unflinching support to the team which motivated and encouraged us to victory in the Aiteo Cup and the unbeaten home record we achieved in the league.
The vibrant Akwa Ibom State Football Supporters Club deserve our commendation under rain and shine.We also benefitted from a new SWAN leadership led by Solomon Bassey who defied all odds, fought our battle and today are part of our success story."
The fan base increased match after match and here we are, fourth in the league, winners of the Aiteo Cup, the best club in the land with a clean sweep of the individual Aiteo awards of Best Coach, Highest Goal-Scorer, Best Goalkeeper and Best Player."
"We can only work harder given the adage that says it is easy to get to the top but difficult to remain there" Mr. Bassey said.The Players have been sent on break even as the Coach Maikaba led technical crew embark on a search mission to contact players that will  fortify the team in preparation for next season and the CAF Confederation Cup.