By Ola Ajayi
Ibadan—It was a Ibadan—It was a  pathetic sight yesterday in Ibadan, Oyo State, as some weather beaten, aged pensioners struggled to get to the venue of another verification exercise being conducted by the Federal Government through the Pension Transitional Arrangement Directorate, PTAD.Some of them who had suffered life threatening illnesses like stroke, were seen being carried by relations, some on wheel chairs. While some tip-toed, others foot dragged along with the help of crutches.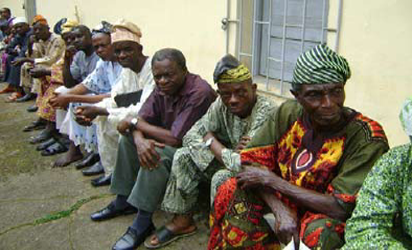 They came from various parts of Oyo State to the International Conference Centre, University of Ibadan venue of the exercise.Though, the exercise was held in a conducive environment and went on smoothly without any rowdiness which characterized the previous exercises, some of the aged people complained that the government was just troubling them for no just cause.
The verification exercise which is mainly for civil service pensioners under the Defined Benefit Scheme, DBS, was said to be going on in three different locations in the state.When speaking  some of the retirees, described the exercise as a good one, while others complained that it was meant to compound their problems.An octogenarian who refused to give her name said as smooth as it appeared,
"It's an ordeal for me. At 84, it is not easy being tossed to and fro in the name of verification.  I haven't been paid since 2009. There's nothing I can do than just to pray to my God to bless my children so that they can have enough to provide for me. ''I didn't want to come, it was my children that encouraged me. If it takes too long for me, I will go back home. I'm already having some pains. It is my experience as a nurse that helped me.
I didn't eat anything so that I don't have to be visiting rest-room."Another pensioner, Mr Olatunde Bolarinwa who was led into the hall by his son, said as good as the exercise was, he saw it as a mere waste of time."The exercise is good. But, it seems to me that government is just wasting our time. We were here yesterday around 6:30am but they said we came too late. When we came back this morning, they said we should pick numbers."
"Many pensioners are not here. Some are in villages and they don't even know anything like this is going on here. They are there suffering. Some handicapped. I think government should find an easier method to do it. I came from farm when I heard. I don't have anything to eat", he said.
A medical doctor, who was the Chief Surgeon for old Western region from 1968-1976 who pleaded for anonymity said; "People came here as early as 6am. Officials started arriving from 7am. I have nothing against them. They are polite and obliging. But, some people complained that the process is slow. I discover they appear so thorough."Efforts to speak with PTAD officials were not very successful as they claimed they were not authorized to speak with newsmen.
But, one of them said the exercise was smooth and commended the maturity of the elderly people.She said, "The exercise is okay. We started yesterday and it has been so smooth. We have quite a large number in Ibadan when compared to what obtains in other places."