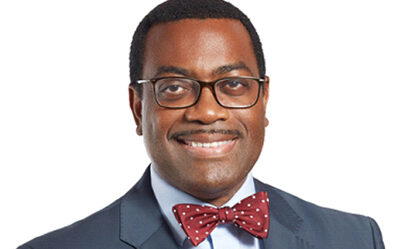 Akinwunmi Adesina, President, AfDB.
By Jimoh Babatunde, Iowa
The President of the African Development Bank and the World Food Prize winner for 2017, Dr. Akinwumi Adesina, has pledged to set up a World Food Prize African Youth Institute to support young Agric-entrepreneurs in the continent with his prize money of $250,000.
Speaking at the laureate luncheon yesterday at the Marriott Hotel, Des Moines, Iowa, Adesina said "today I am honored to announce that my world food prize and all other things that will be mobilized will be used to support the work of the World Food PrizeAfrican Institute which we will set up.World food prize Africa youth institute will support young Agric- entrepreneurs, young scientists and scholars."
Already, the prize money has been matched by a philanthropist, John Harrington of Sheffield Corporation, with $250,000 and the Borlaug foundation with $10,000.
Adesina, who was presented the money as the winner of this year's World Food Prize laureate in Capitol city of Iowa, USA, said the the  fund will be fully dedicated to  providing grants, fellowships and financing the youths of Africa in agriculture as a business.
The fellows from the institute, according to him will named Borlaug Adesina fellows, "This will allow us to strategically continue Dr. Borlaug legacy of taking agriculture technologies to farmers and my philosophy of promoting agriculture as a business."
Adesina noted that the future of agriculture  belongs to the youth said " We are the African Development Bank are putting a lot of money into getting young people into agriculture. Last we spent $800million and we will spend an average of $1.5 billion  every year for the next ten years.
The AfDB President said  "We will arise and feed Africa.The day is coming very soon when all its children will be well-fed, when millions of small-holder farmers will be able to send their kids to school.
The award was founded by the late Norman Borlaug, who won the 1970 Nobel Peace Prize. Borlaug was called "the Father of the Green Revolution" for his work developing high-yielding strains of wheat that were credited with staving off the starvation of millions of people in Pakistan and India.