By Joseph Erunke
ABUJA—Governor Kashim Shettima of Borno State, yesterday, said over 50 million Nigerians of northern extraction live in poverty.
The governor also lamented that the region was faced with five most serious problems, which he enumerated to include low literacy, poverty, poor healthcare, unproductive population and bad economic position.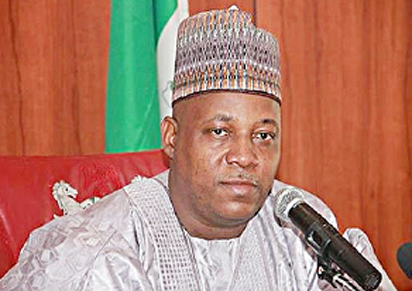 Shettima, who is the Chairman, Northern  Governors' Forum, said he relied on recent research data released by experts, which indicated that of  the 79.6 million Nigerians living in poverty, over 50 million of them, representing about 70 per cent, live in the 19 northern states of Nigeria.
To this end, the governor entered into a Memorandum of Understanding, MoU, with General Electric, GE, to enhance healthcare delivery in all northern states.
Signing the MoU in Abuja, yesterday, the governor, who noted that governors of the region were taking very determined steps to rewrite the northern story from different perspectives, regretted that unproductive population in the North had  resulted in lack of affordability for the most basic of healthcare services.
Shettima said:  "It is a tall and tough task but where there is the will, there is always the way and one of these ways is partnership with General Electric in our very sincere bid to improve healthcare infrastructure in the region."
''As we go towards implementation, we should bear in mind that the lives of many people in Northern Nigeria depend on how quickly we are able to continually improve access to quality and affordable healthcare.
"Series of report by the World Health Organisation gives records of high maternal, infant and under five-old mortality in the northern population.
"We have since resolved to productively invest on sound and measured basic education. We resolved to have strong bias for girl-child education."
"It is always a pleasure for me whenever I have something to do with General Electric. This, of course, is for the simple reason that General Electric is sincere in partnerships, committed to pursuing goals and most importantly, very compassionate about supporting us to address key problems bedeviling us in Northern Nigeria.
"In three successive years, I have been privileged to have productive affiliations with the General Electric. In October, 2015, I was present when the General Electric presented a cheque of millions dollars to the UNICEF, which at that time, was the highest private sector intervention in support of internally displaced persons in Borno State.
"In November, 2016, I was mandated by my colleagues from the Northern Governors Forum to sign an MOU with the General Electric for the establishment of solar plants to generate combined electricity of 500 Megawatts from five States in Northern Nigeria.
"In October, 2017, I am here again, to once again, on behalf of my colleagues, sign another MOU with General Electric for upgrade of healthcare infrastructures in Northern Nigeria.
"The Northern Governors Forum is absolutely committed to this partnership and we have supreme confidence in our selfless and versatile Malam Tanimu Yakubu Kurfi, who is heading the Northern Nigeria Global Economic Re-integration Programme which is the facilitator of today's partnership.''