Some financial experts on Monday expressed optimism that presentation of the 2018 budget proposals by President Muhammadu Buhari to the National Assembly would trigger activities on the Nigerian Stock Exchange (NSE).
They told Newsmen in Lagos that the budget presentation would rekindle investors' confidence in the equities market.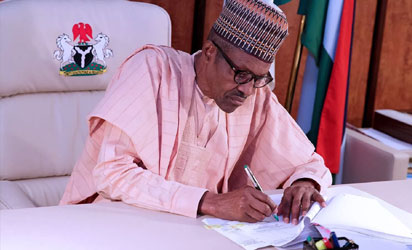 Dr Uche Uwaleke, the Head of Banking and Finance Department, Nasarawa State University Keffi, said that the equities market performance this week would be better than the previous week due to the budget proposals presentation.
Uwaleke said that there would be positive investor sentiments as a result of the presentation of the budget proposals this week.
He, however, called on the National Assembly to ensure speedy passage of the 2018 Appropriation Bill to ensure desired growth and development.
Uwaleke added that some stocks like Zenith and Nestle with very high weighting on the MSCI frontier market index would likely go up this week.
Mr Ambrose Omordion, the Chief Operating Officer, InvestData Ltd., said that the proposed budget should be given accelerated consideration in the interest of the economy.
Omordion said that senate and the executive should not play politics with the 2018 proposed budget to avoid a repeat of what happened with the present budget.
On the market performance this week, he called on investors to go for stocks with good fundamentals.
Omordion said that the market may likely experience profit taking in expectation of more earnings reports ahead of third quarter Gross Domestic Product (GDP) figure, amid year-end sentiments.
A total turnover of 1.39 billion shares worth N16.40 billion were exchanged by investors in 19,195 deals last week.
This was against 872.89 million shares valued at N14.02 billion transacted in 19,047 deals in the preceding week.
The Financial Services Industry remained the most active accounting for 1.12 billion shares valued at N10.15 billion traded in 9,942 deals.
The sector contributed 80.05 per cent and 61.90 per cent to the total equity turnover volume and value respectively.
The Consumer Goods sector followed with 95.01 million shares worth N3.25 billion traded in 4,443 deals.
The third place was occupied by Conglomerates Industry with a turnover of 90.19 million shares worth N645.16 million exchanged in 1,136 deals.
The NSE All-Share Index during the period depreciated by 125.05 or 0.34 per cent to close at 36,462.26 against 36,587.31 in the corresponding period.
However, the market capitalisation rose by N26 billion to close at N12.619 trillion compared to N12.593 trillion achieved in the previous week.
The growth in market capitalisation was due to the listing of additional shares of Guinness following its concluded rights issue that achieved 120 per cent subscription.
NASCON led the gainers' chart for the week in percentage terms, appreciating by 20.76 per cent or N2.74 to close at N15.94 per share.
Dangote Flour Mills came second with a gain of 19.59 per cent or N1.35 to close at N8.24 and Fidelity Bank increased by 15.28 per cent or 22k to close at N1.66 per share.
On the other hand, Cutix topped the losers' chart for the week in percentage terms, declining by 22.31 per cent or 58k to N2.02 per share.
Forte Oil trailed with a loss of 14.24 per cent or N6.36 to close at N38.29 and Axa Mansard Insurance dropped by 10.22 per cent or 23k to N2.02 per share.