By Henry Umoru
ABUJA—THE Senate said, yesterday, that from all available indications and economic indicators, the executive may not be able to implement more than 50 per cent of  2017 budget, and would jerk the 2018 budget to N10 trillion.
Speaking in Abuja during the debate on the report of the implementation of the 2017 budget at plenary, Senate President, Dr Bukola Saraki, said since the executive might not implement more than 50 per cent of 2017 budget, the 2018 budget might be more than N10 trillion.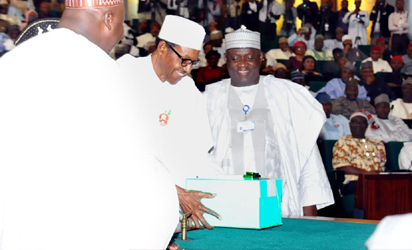 He said: "If the implementation of the 2017 budget is going to be 50 per cent, it means we should expect to have a budget of N10 trillion in 2018. I hope the executive takes note of that."
The Senate also said there was no pending loan request currently before it, saying all requests from President Muhammadu Buhari were approved before the National Assembly embarked on its annual recess in July.
The position of the Senate, yesterday, countered that of the Minister of Finance, Mrs Kemi Adeosun, over claims that the National Assembly was yet to approve President Buhari's borrowing plans needed to fund capital projects in the 2017 budget.
Saraki said: "There is no request before us about borrowing we have not approved. We approved all the requests before we went on break. I needed to make this explanation because of what the Minister of Finance said, that the National Assembly is holding on to borrowing requests sent by the executive."
Insists on 50% implementation
The Senate is also insisting that the implementation of 2017 budget must reach fifty percent completion before it would be rolled over to 2018 budget.
This is part of recommendations contained in the report of the Committees on Appropriations and Finance, which recently invited Minister for Finance, Mrs  Adeosun, and her Budget and National Planning counterpart, Senator Udoma Udo Udoma, to explain the level of implementation of  2017 budget.
Indicts MDAs over non-remittance of revenues
Meanwhile, the Senate has accused some Ministries, Departments and Agencies, MDAs, of the Federal Government of failure to remit revenues into the Federation Account.
Presenting the report of the committee, Senator Goje, who did not mention names of the MDAs, said the revenue leakages must be blocked and agencies involved sanctioned to guard against a repeat in the future.