Over 400 participants, including the United States and Nigerian legislators, executives, heads of private organisations and Decision makers, among others, will be meeting next month at the 2017 U.S-Nigeria Legislative and Executive Leadership Forum to discuss Africa's influences on global economy, arts and cultures, and entertainment through exchange of expertise, idea sharing and effective policy discussions to effect a truly restructured Africa and the world at large.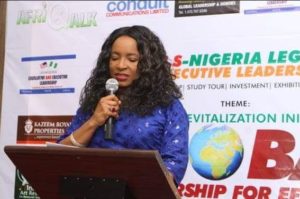 The event which will provide an ambient environment to build new connections and long lasting business relationships between Nigeria and the U.S will also explore efficient border Security and migration management, weigh the benefits and risks of International Trade, import and export in global economy, as well as ways of maximising microeconomic reforms and policies through legislation and best practice sharing.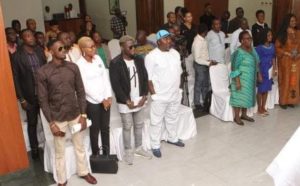 Addressing Journalists during a Press Briefing/Reception to announce activities for the 2017 US-Nigeria Legislative & Executive Leadership Forum tagged: "Nigeria Revitalization Initiative: Global Partnership for Effective Development & Restructuring," billed for November 15-18, 2017, in Washington DC, USA, at the Oriental Hotel, Victoria Island, Lagos, the Founder, Festival of Arts & Culture Expo Inc. (FACE), Princess Asha Okojie-Osazuwa noted that the forum will provide an empowerment platform for young leaders to also engage in productive dialogue that would prepare them for future leadership roles in the world.
She said the forum will review the Legal and Regulatory Framework of Public Private Partnership and foreign Direct Investment Policies, the future of aviation, transportation and food safety in emerging global, improving Health and educational systems for Job Creation and Community Capacity development.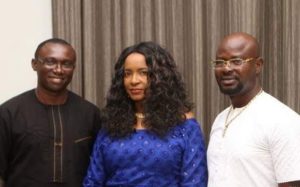 According to her, the event is equally held, "to enhance public and private sectors involvement in promoting community economic development initiatives, Nigeria's restructuring agenda, small and medium enterprises for economic growth and job creation by creating an enabling environment for investment and capacity building with the goal of strengthening regional security, energy, inter-parliamentary diplomacy, foreign policies, trade relations and philanthropic initiatives through cultural diplomacy."
Activities marking the event include: Workshop and Study Tour, Onsite Visits and Study Tour, VIP Reception, Business and Industry Networking and Exhibition, Meet and Greet Networking.
The highpoint of the event would be the FACE HONORS AND GALA BALL, Red Carpet, Award Ceremony and Cultural Entertainment.
Equally speaking with newsmen on the need for the forum, one of the Guest Speakers and CEO Conduit Communications Limited (IVLP Alumnus), Mr. Victor Gotevbe said the forum is necessary because the policies and other discourse that would be exchanged at the event would have a direct impact on the lives of the common man on the streets of Nigeria.
He said his organisation, Conduit Communications Limited and other bodies, including Festival of Arts & Culture Expo INC. (FACE), Afriqtalk Consult, United People For African Congress, International Art Resource Centre are partnering the host city- Maryland State Government to achieve a better socio-economic, political and diplomatic relations between Nigeria and U.S, especially as the forum would also focus on areas such as the following: Governance and Democracy, Finance and Banking, Aviation, Travel and Maritime Industry, Trade and Investment, Infrastructure and Housing, Terrorism and Insurgency, Consumer Protection and Food Security, Economic Diversification and Diplomacy, Healthcare and Education, Finance and Banking, Customs and Immigration Compliance, Agriculture and Energy, Environmental Sustainability, Media, Tourism and Hospitality.
Similarly, President/CEO, United People for African Congress (UPAC), Dr. Sylvester Okere, in his remarks said, "We in America are very concerned about the struggles and challenges of our people. Nigeria being the most populous nation of Africa and the largest single black community in the world is faced with many opportunities as the Giant of Africa.
"We are rest assured that this robust program and continuing in partnerships, collaborating, and the huge networks of likeminded great men and women of noble ventures…the Boat shall rise again. And the Eagle "Nigeria" will soar steady and enviable as never before."
Okere, who reminisced on the 57years Journey of the Nigerian nation, said, "Therefore, casting our minds back in remembrance and willing to follow the footsteps of the founding fathers of this great nation…in the 1960s,  Nigeria was at the leadership of great fathers who put the country and the citizens first before politics, tribe, religion and other affiliations.
"We the organizers of this epic forum believe that with the same vein, this same Nigerian blood, the same vision and striving spirit "the lost glory shall come back" as it was in the days of Dr. Nnamdi Azikiwe, Sir Abubakar Tafawa Belewa and Chief Obafemi Awolowo, men who love their country and put ALL Nigerians first in their agendas."
"We therefore challenge our leaders and fellow Nigerians everywhere; "Ask not what your country can do for you but what you can do for your country. Come join us to rebuild Nigeria," he said.
Meanwhile, the event would see the honorary awarding of eminent personalities in Nigeria who have extinguished themselves in various areas such as politics, business, humanitarian angles and others.
This year, the honorees include First Lady of The Federal Republic of Nigeria, Her Excellency, Mrs Aisha Muhammadu Buhari (HUMANITARIAN AWARD); CEO, Kazeem Royal Properties Limited, Prince Kazeem Eletu-Odibo (COMMUNITY RECOGNITION AWARD); CEO/MD Medview Airline, Alhaji Muneer Bankole (OUTSTANDING EXECUTIVE AWARD); Senator Representing Edo Central Senatorial District, Senator Ordia Aimienmona Clifford (LEADERSHIP IMPACT AWARD); Emir of Kano, His Royal Highness, Muhammadu Sanusi Lamido II (LIFETIME AWARD & ROYAL FATHER OF THE DAY) and His Excellency, Governor Ben Ayade of Cross River State (COMMUNITY RECOGNITION AWARD).
Others include, General Overseer, Latter Rain Assembly, Pastor Tunde Bakare (PUBLIC INTEGRITY AWARD); Congresswoman Sheila Jackson Lee (GLOBAL STATESMANSHIP AWARD); Former Speaker, Edo State Assembly, Rt. Hon. Justin Okunbo (COMMUNITY CONTRIBUTION AWARD); U.S. Assistant Secretary of State for Africa Amb. Donald Yamamoto (EXEMPLARY DIPLOMATIC SERVICE AWARD); National Chairman of Royal Traditional Rulers, His Royal Highness, Eze (Dr.) Thomas Obiwuru Obiefule, (CIVIC STATESMANSHIP AWARD); Honorable Minister of Foreign Affairs, Federal Republic of Nigeria, His Excellency, Mr. Geoffrey Onyeama (INTERNATIONAL PERSON OF THE YEAR AWARD); Nollywood Actress, Loveth Ebede (BEST ARTISTIC FACILITATION AWARD) and Executive Director, Agbonhagwe Leemon Ikpea Foundation, Chief Dr. Leemon Leemon Ikpea (OUTSTANDING PHILANTHROPIC FOUNDATION AWARD).
Also speaking at the Press Conference/Reception, one of the 2017 Honorees, the Chairman, Kazeem Royal Properties Limited, Prince Kazeem Eletu-Odibo, expressed delight to be selected to receive the Esteemed FACE HONORS AWARDS, scheduled for next month in Washington DC, USA.
According to Eletu-Odibo, "Truly, there are a lot of awards that are flying around and some of them are bought with money. However, yours faithfully has not lobbied for any  of such because I believe strongly that you cannot give what you do not have.
"It is because I have chosen the path to be a blessing to others whom I believe that God first chose for me and unknown to me my contributions to humanity is being noticed in far away America. Today is not a day for long speeches, but I must say this as I remain grateful to God for the privileged position He has placed me.
"I hope my story is one that can only bring hope and motivation to people around the world because every child is born with his or her God given potentials.  I knew that as a child I would someday be great but I could not tell how but believe that's why our youths should be encouraged."
"Today, God has blessed me. I am the Chairman of Kazeem Royal Properties Limited. I want to thank the organisers of the forum for such outstanding press conference as I look forward to participating at the event. I am grateful for this honour and by the grace of God, I will be in Washington DC to receive the award," he said.
Earlier during the press briefing, Princess Asha Okojie-Osazuwa announced those gracing the occasion as Speakers to include the following:
SPECIAL GUEST OF HONOR
Hon. Boyd Rutherford, Lieutenant Governor of Maryland
KEYNOTE SPEAKER
Senator C. Anthony Muse, Maryland State
SPECIAL GUEST OF HONOR
Amb. Geoffrey Tenilabe
Former Nigeria Ambassador/Consul-General to U.S
KEYNOTE SPEAKER
Alhaji Abdul-Aziz Yari Abubakar
Governor of Zamfara State & Chairman Nigeria Governors Forum (NGF)
KEYNOTE SPEAKER
Barr. Tunde Irukera
Director General of the Consumer Protection Council (CPC)
KEYNOTE SPEAKER
Chris Kehinde Nwandu
CEO/Publisher CKN News & President, Guild of Professional Bloggers of Nigeria
GUEST SPEAKER
Mr. Emeka Eneanya
Founder Eneanya Foundation
GUEST SPEAKER
Mr. Victor Gotevbe
CEO Conduit Communications Limited (IVLP Alumnus)
GUEST SPEAKER
Ejike Fashina
CEO Career Education Academy (Safe Skies for Africa).