Activities in celebration of the 2017 Ofala festival, sponsored by Globacom, began, yesterday, with the Oraeze International Arts Exhibition at the Ime Obi, Onitsha, Anambra State.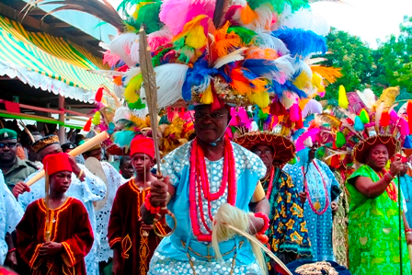 Globacom in a statement issued in Lagos, yesterday, said this year's celebration of the festival would run through to Monday, October 16.
The programme of activities shows that a youth carnival will hold tomorrow, while the main Ofala will be celebrated in the morning of Friday, October 13, and a cocktail party, Eze Onicha, in the evening of the same day.
According to the programme of event, Azu Ofala, will take place on Saturday, October 14, while the Ofala Music Concert, during which the most beautiful girl in Onitsha will be crowned Miss Ofala 2017, will be held on Sunday, October 15, at CJ Patterson International Auditorium, Onitsha.
A royal banquet in honour of the Agbogidi, Obi of Onitsha, Igwe Alfred Nnaemeka Achebe, will hold at the Dolly Hills Hotel, Onitsha,  on Monday, October 16 to round off the festival.
Globacom expressed satisfaction that "the festival is growing bigger and bigger every year since we officially took over its sponsorship in 2011. We commend the Agbogidi for all the innovations he has over the years introduced to the festival to make it more exciting and a tourist attraction. We are delighted to be part of this noble festival for another three years."
The company charged all lovers of tradition and culture to visit the Ime Obi, Onitsha Palace, to experience firsthand the celebration of the biggest festival in the  south east  and savour the hospitality of Onitsha people.