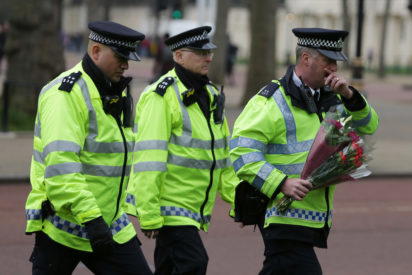 Police officers arrive with a bunch of flowers to lay in honour of police officer Keith Palmer, who was killed during the March 22 terror attack in Westminster, at the National Police Memorial in Westminster, central London on March 23, 2017. Britain's parliament reopened on Thursday with a minute's silence in a gesture of defiance a day after an attacker sowed terror in the heart of Westminster, killing three people before being shot dead. Sombre-looking lawmakers in a packed House of Commons chamber bowed their heads and police officers also marked the silence standing outside the headquarters of London's Metropolitan Police nearby. / AFP PHOTO
A Georgia police lieutenant who faced being fired over racially charged comments captured on dash-cam footage has announced his retirement, according to local media.
In the video Lieutenant Greg Abbott told a woman who feared moving her hands during a traffic stop not to worry because "we only kill black people."
Told she could pick up her cell phone, the woman said she did not want to move her hands because she has seen "way too many videos of cops."
"But you're not black," Abbott replies in the July 2016 video. "Remember? We only kill black people."
Police Chief Mike Register told journalists Thursday that Abbott would be removed from the force, saying "there's really no place for these types of comments in law enforcement."
"I feel that no matter what context you try to take those comments in, the statements were inexcusable and inappropriate."
According to the Atlanta Journal-Constitution, Abbott emailed the county announcing his retirement from the force, which he had served in nearly three decades.
The dash-cam video was released after a local television station obtained it through an open records request.
The timestamp on the footage shows it occurred amid a spate of race-tinged violence involving law enforcement, including the fatal shootings of black men Alton Sterling and Philando Castile that came just days apart.
Those deaths sent shockwaves nationwide, fueling mass protests and a fierce debate over race and criminal justice.