By Joseph Erunke
ABUJA—THE Nigerian Army claimed, yesterday, that troops of Operation Lafiya Dole in the North-East, killed many Boko Haram terrorists in an ambush in the early hours of Sunday.
Also, the Nigerian Air Force said it struck some buildings occupied by the terrorists in a bomb raid, killing many terrorists.
The claims of the two successful operations against the terrorists were contained in separate statements released early yesterday by spokesmen of both agencies.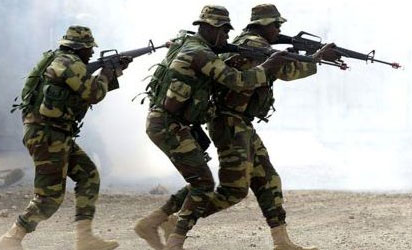 The Army, in the statement by Brigadier General Sani Usman, Director, Army Public Relations, said the troops of 151 Battalion, 21 Brigade carried out the ambush against the terrorists in the early hours of Sunday, September 10.
The successful ambush, he explained, was on suspected Boko Haram terrorists' crossing point at Bocost, along Ngurosoye-Bama Road, Borno State.
"The troops neutralised a large number of the Boko Haram terrorists, while other terrorists sustained gunshot wounds.
"The troops recovered one AK-47 rifle, with the registration number 1029; one AK-47 magazine; 60 rounds of 7.62mm Special; three bicycles; four empty Jerry-cans, a cutlass and N5,600 cash."
The Nigerian Air Force, on its part, said bombing of the terrorists buildings resulted in the death of a large number of the terrorists.
A statement by the Director of Public Relations and Information, Nigerian Air Force, Air Commodore Olatukunbo Adesanya, read: "On September 7, the Nigerian Air Force, NAF, conducted air interdiction on structures with two hoisted Boko Haram Terrorists, BHT, organisation's flags at Zanari, a known location with significant BHT presence at the northern fringes of Borno State, bordering Lake Chad.
"Quite a number of BHTs had earlier been spotted from a NAF Intelligence Surveillance and Reconnaissance platform, entering the buildings apparently for meetings.
"The F-7Ni and the Alpha Jet aircraft were detailed to attack the target. Overhead the location, the target was acquired and engaged by the two aircraft in rapid succession.
"Subsequent Battle Damage Assessment revealed that the targeted structures went up in flames, killing its occupants."
The statement explained that the objective of Operation Ruwan Wuta by the Air Force was to further degrade the capability of the Boko Haram terrorists to prevent them from regrouping to cause havoc for surface forces.
"The operation also aims at softening the ground for our surface forces to subsequently move in and conduct mop up operations."