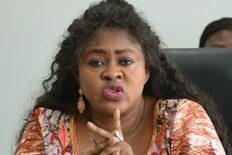 Senator Stella Oduah
Sen. Stella Oduah has said that the South eastern part of the country requires a minimum of three container ports to boost the economic growth of the country.
In an interview with newsmen in Abuja, Oduah said the ports were necessary because the Southeast region had become an industrial zone.
She said that because the Southeast was land locked, inland container ports would expose the region to international markets.
The senator added that if the ports were in place, the rate of road accidents as well as road degradation would be minimised.
"Southeast is a commercial region; what we do best is trading; what we do best is industrialisation. That is innate in us; for us to be able to enhance it and export products, we must have access to the global market.
"We already have an international airport; the second one will be to have a cargo export terminal which is why the inland cargo terminal is important.
"Unless we have that it means that for every cargo, every transaction, import or export will have to be through Port Harcourt or through Lagos.
"Without the inland ports it means that accident rate that had been reported all these years because of bad roads will continue to increase because a trader will either import or export his goods through Lagos or Port Harcourt.
"For me as a South Easterner, I think it is a right to have inland container port and government should not just build one but a minimum of three," she said.
The former Aviation Minister stressed that the container ports must come with full complements of a regular seaport and a port's authority structure.
Oduah said that establishing the ports were long overdue, adding that the Onitsha port should not be considered as a seaport but a river port.
"The intention of the people that conceptualised Onitsha River Port could not have been to serve the region as a port because it has shallow waters.
"The dredging would not have served the purpose because it is meant to accommodate all vessels," Oduah added.
NAN