As part of the activities to commemorate the 30th anniversary of Akwa Ibom State  a four hundred million capacity a year syringe manufacturing company has been commissioned by Vice President Yemi Osinbajo.
Osinbajo, who was visibly elated with Governor Udom Emmanuel for the foresight in attracting the project, said: "You are one of the cleverest people I've ever come across."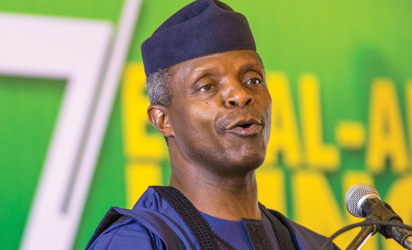 He described the syringe factory as a landmark project, not only for Akwa Ibom but also Nigeria, adding that "it is a game changer for the nation," as it marks local production of syringes in the country.
He commended Emmanuel for his innovation and creativity.
Earlier, Emmanuel noted that the factory has a production capacity of 400 million syringes, and would be upgraded to one billion by next year.
Emmanuel said he was worried about the 100 percent dependence on importation of all medical consumables into the country, hence his decision to encourage the investment by the private investors.
Managing Director of JSM, the company behind the project, Mr Onur Kumral, in an interview with reporters after the commissioning, said the syringe factory is a bullet that will assist to end the poor run of the country's economy, as it has already created job opportunities for indigenes of the state.