…As NUPENG shuts loading depots nationwide
…FG to meet with NUPENG over strike
By Victor Ahiuma-Young & Lawani Mikairu
LAGOS — THE Department of State Service, DSS, yesterday, invited leaders of United Labour Congress of Nigeria, ULC, to its Abuja headquarters over the ongoing nationwide strike by members, including Nigeria Union of Petroleum and Natural Gas Workers, NUPENG, and National Union of Electricity Employees, NUEE.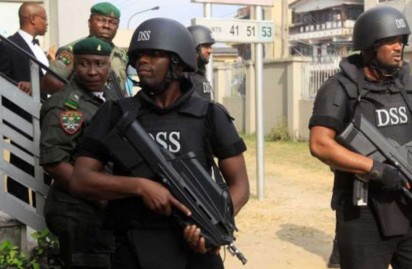 This is even as the Federal Government said, yesterday, it would meet with  NUPENG, today, to resolve the ongoing industrial action embarked upon by the union, which is an affiliate of ULC. Labour and Employment Minister, Dr Chris Ngige will preside over the meeting.
Among the leaders of ULC, at the meeting said to have commenced a few minutes to 3 pm were its General Secretary, Didi Adodo, leader of the delegation, Deputy President of ULC, Achese Igwe, and three others.
Vanguard gathered that the meeting presided over by the Director General of DSS, Lawal Daura, ended around six pm.
It was gathered that the DSS Director General and his team wanted to know the reasons for the strike and the way forward. Sources said leaders of ULC briefed them on their grievances and the way forward.
According to Vanguard sources,before the meeting ended, the DSS promised to facilitate a meeting between ULC and appropriate authorities today on how the issues could be resolved amicably.
Confirming the meeting, ULC's Deputy President, and President of NUPENG, Igwe Achese, said the meeting was successful and that ULC appreciated the quick intervention by the DG of DSS and his team.
He said:  "The DG, after listening to us, agreed that we have a right to our demands and that he will facilitate further meetings with the Ministries of Labour and Employment, Power and Petroleum to ensure that the issues we raised are addressed.
''He was happy when we told him that we are not out to fight government or engage in economic sabotage but to ensure that our rights and demands are addressed. We told him and his team that even this night (yesterday), we are ready for any meeting. He was emphatic that we have rights to our demands."
NUPENG shuts loading depots nationwide
Meanwhile,NUPENG said, yesterday, that there was total compliance by members nationwide as all loading activities were stopped in line with the directive from national leadership of ULC.
Speaking to Vanguard, Lagos State Chairman of ULC, Alhaji Tokunbo Korodo, said:  "We recorded 100 percent compliance as no loading activities took place in Lagos, Warri and Port Harcourt. In Kaduna, you know the Kaduna refinery is not working and the northern part depends on Lagos, Warri and Port Harcourt.
"So, nothing is going on there.  You will begin to feel the impact from tomorrow (today). Filling stations are not supposed to sell products and we have taken note of the filling stations that failed to comply. After the strike, we will definitely blacklist them for sabotaging the union."
NUR in total compliance
On his part, General Secretary of National Union of Railway Workers, NUR, Segun Esan, said: "All NUR members are in total compliance with the ULC directive on sit at home strike which began today. Across the Nigerian railway, there is total compliance by the members of the NUR who are affiliates of the ULC. We hope the compliance will get better in the coming days."
In a chat with Ocheme Aba, the General Secretary, National Association of Aircraft Pilots and Engineers, NAAPE, who said he preferred to speak as the treasurer of ULC,  told Vanguard that "the idea of today's  (yesterday) strike was not to shut Nigeria airspace. And so today, we did not fail.
''Our action will gradually take effect. We did not intend to shut Nigeria airspace but we are going to stop planes from flying. How we are going to do that is our secret. And I cannot disclose our strategy.
An official of NUEE, Mr. Babatunde Issac, said the strike was gradually picking up in the sector because the equipment were old and very sensitive.
''We cannot just shutdown suddenly. If we do, it will take almost a month for some of the equipment to come back fully. In fact, some may be damaged. That is why we are doing it phase by phase to avoid collateral damage to the system,'' he said.
Similarly, General Secretary, Mr. Muhammed Sheikh, asked the public to discountenance any insinuations by "agents of destruction and enemies of the union" that NUBIFIE was not affiliated to United Labour Congress.
He said:  "NUBIFIE is a full affiliate of ULC and supports the ongoing strike called over failure of the federal government to address some needs affecting Nigerian people, especially workers.''
NUBIFIE not affiliate of ULC
Earlier, one Abdulrasheed Lukman who the General Secretary of NUBIFIE, Mr. Sheikh, claimed was disqualified from contesting the just concluded delegates conference on the ground that he was no longer a member of the union, had dissociated NUBIFE from the strike, adding that NUBIFIE was not an affiliate of ULC, but Nigeria Labour Congress, NLC.
Meanwhile, ULC in a statement by its President, Joe Ajaero, said the group recorded huge success in the target it set for itself.
He said:  "The trumped-up news that NUBIFIE has pulled out of the strike is a further manifestation of the fight back against the strike by a combination of unfortunate labour leaders who are busy romancing the Federal Government while Nigerians wallow in abject poverty and suffering.
''For the avoidance of doubt, NUBIFIE has not pulled out of the strike and are involved seriously in ensuring it succeeds.
"We have adopted a gradual and systematic approach in implementing this strike in order to reduce the suffering that may be foisted on Nigerian workers and masses if we apply the whole weight at the same time.''
However, there was normal flight operations at both the domestic and international terminals of the Muritala Muhammed Airport, Lagos, yesterday.
A visit to the airport by Vanguard witnessed normal activities and flight operations at both terminals of the airports. Aviation workers were at their various duty posts carrying out their normal duties.
Also, the Nigerian National Petroleum Corporation, NNPC, yesterday cautioned motorists across the country against panic buying of any petroleum product.
Mr Ndu Ughamadu, the NNPC Group General Manager (Group Public Affairs Division), gave the warning in a statement in Abuja.
According to NNPC, the corporations has sufficient Premium Motor Spirit (PMS), otherwise called petrol, in stock to serve the nation for 48 days.
"Similarly, there is in stock sufficient quantity of Automotive Gas Oil, AGO, Dual Purpose Kerosene (DPK) as well as Aviation Turbine Kerosene (ATK) to serve the country.
''Motorists are further enjoined to report any challenge they may have in the course of purchasing any of these products to the Department of Petroleum Resources (DPR). The DPR is statutorily empowered to deal with such issues and has offices located in all parts of the country," Ughamadu said.
FG to meet with NUPENG over strike
Meanwhile, the Federal Government said yesterday it would meet with the Nigeria Union of Petroleum and Natural Gas Work, NUPENG, today to resolve the ongoing industrial action embarked upon by the union, which is an affiliate of ULC.
The Minister of Labour and Employment, Sen. Chris Ngige, said this in a statement signed by Mr Samuel Olowookere, Deputy Director, Press, in the ministry  yesterday in Abuja.
Ngige said the crucial conciliatory meeting with the president and the executive of NUPENG would hold in his office by 11:30a.m.
NUPENG is currently an affiliate under the United Labour Congress, ULC, which also has Petroleum Tankers Drivers (PTD), National Electricity Employees Union (NUEE); National Union of Banks, Insurance and Financial Institutions Employees (NUBIFIE), telecommunication unions and Aviation unions, among others, as members.