There appears to be fresh worry among the Nigerian IT Professional as a result of obsolete Information Technology curriculum in the Nigerian universities.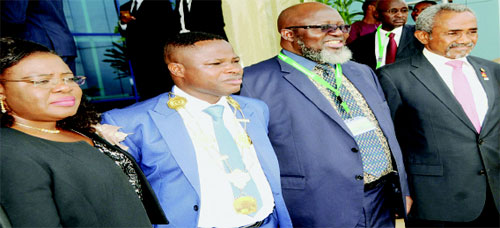 At the just concluded 2017 international conference organised by the Nigerian Computer Society, NCS, how best to review current IT curriculum dominated discussion.
For majority of the speakers at the annual forum, unless Information Technology, IT, curriculum       in the tertiary institutions was reviewed, the country may not achieve 21st century educational standard needed to address local challenges.
While the conference with the theme, "Information Technology Innovation for Sustainable Development", noted that the teachers must be retooled with IT skills and knowledge to attain global standard and produce good products, majority of the speakers at the forum noted that IT must be built into every level of the curriculum so as to achieve global competitiveness.
At the capacity building forum   that had the induction of no fewer than 345 new members, the participants challenged the National Universities Commission, NUC,   and other relevant agencies in conjunction with Computer Professionals (Registration Council of Nigeria), CPN,   to jointly review IT curriculum for tertiary institutions in the country   so as to   reflect current realities and industry needs.
Earlier in his keynote speech, the guest speaker, Prof   Remi Sonaiya   without mincing words told the gathering that     formal education has failed us, not only in Nigeria but in Africa as a whole
"My thinking is that we need to completely overhaul the curriculum in our schools, right from the primary school. We are not teaching our children what they need to learn. Overhauling the school curriculum, might not be in your power to achieve, unfortunately.
"But what about the development of Apps to teach these skills? As you know, it is in spite of our government and leaders that we Nigerians are managing to bring about some development in a few areas of endeavour like the entertainment industry and IT.
"So, for example, how about if some of you collaborated with researchers and experts in the relevant fields in our universities to develop computer applications to teach problem solving and organisational skills? Skills of precision and accuracy of measurement are equally needed. Our normal way is to approximate and manage things, as demonstrated by most of our mechanics, vulcanisers, carpenters, bricklayers, tailors, among others"
The President of Computer Professionals Registration Council of Nigeria, CPN, Prof. Charles   Uwadia,     had earlier said that to attain global standard,   IT curriculum in many universities was already undergoing review.
He said that this was  occasioned by accreditation visitations by both Nigerian University Commission, NUC,   and CPN.
According to the University Don, Nigerian institutions of learning are expected to be guided by the Information Technology Standards for all levels of education and professionals in Nigeria.
He said that, "IT Education curriculum is expected to be reviewed as regularly as the body of knowledge and technology change"
"CPN intends to play this role as regards the standards and quality of the curriculum of the proposed ICT University through accreditation", he added.
Supporting the views of other speakers on the need to review IT curriculum in schools, the President of NCS,   Professor Sola Aderounmu, earlier in his welcome address said that sustainability issues have both local and global dimensions.
"A world in which poverty, inequalities, environmental threats and human insecurity thrive threatens the present and the future.
"Tech advances have obviously transformed the world but very significant divides societal and digital remain and are expanding. The challenges are not new but innovative IT oriented models, responses and culture are needed", he explained.
Meanwhile, after the paper presentations, technical sessions, contributions of the participants and exhaustive deliberations, the conference in a communique jointly signed by Prof the NCS President, Prof. Sloa Aderounmu and   Chairman, Conferences Committee, Jide Awe   noted that   the government at all levels needed   to leverage on IT innovation as a viable means of achieving sustainable development in the country.
The forum in the communique further noted that government should consider setting up technological hubs using sustainability considerations in each geo-political zone.
While the communique noted that the IT practitioners in Nigeria should come up with products and services that address local needs, it also urged NCS to work with the academia and industry to explore ways in which innovative and disruptive technologies such as IoT, Artificial Intelligence, Robotics, among others could be harnessed for sustainable development.