BY ROTIMI AGBANA
Sexual harassment, offering or accepting sex in exchange for movie roles in Nollywood is no more a phenomenon shrouded in secrecy, even though no one has ever been caught in the act or publicly exposed. Overtime, many actresses have fallen prey to the antics of randy film makers due to pressure, ignorance, desperation or ill advice; but some have stood their grounds in spite of the pressure they come against.
For curvaceously crafted actress, Sandra Chinonso Onyenemere, her experience has been a bitter-sweet one. In a chat with Potpourri, the light skinned beauty recounted her bitter experience with promiscuous movie directors and producers who desperately wanted to have a taste of her jelly roll. She condemned the shameful and unethical act, vowing never to fall a victim.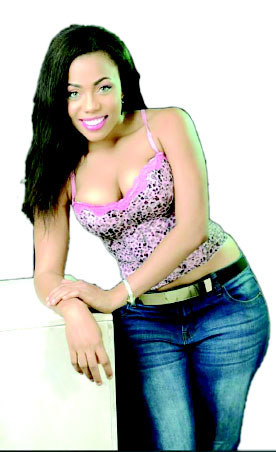 "Some film makers have asked me to pay certain fee to get featured in movies while some make love advances at me and it's unprofessional. How many of them will I date or have sex with? It's just very frustrating! Yes, some do it but I'm very different and we all have our pursuits and purposes in life. I'm already a role model to my family, especially my siblings so I want to go through the right path because I'm the first child and I have six siblings", she mused.
Asked her thoughts on actresses who exchange sex for movie roles she said, "I see them as dirty, cheap and desperate, with no morals or good upbringing."
She blamed the wrong impression the public has about Nollywood on film makers, guilty of sexual harassment. "They are the ones spoiling the industry and giving us a bad name, I see them as male prostitutes", she said.