BY OLA  AJAYI, IBADAN
The large crowd that attended last Thursday's Yoruba Summit on restructuring was large. Those in attendance cut across religious, political and ethnic boundaries.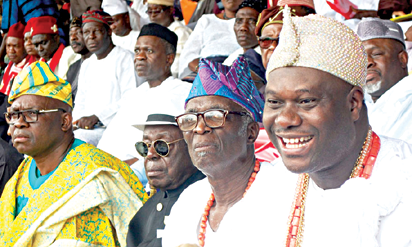 The venue of the programme, Lekan Salami Sports Complex, Ibadan, was filled to the brim. In fact, at some point, security agencies had to start screening people at the entrance to ensure the summit was not disrupted by hoodlums.
Traditional rulers, religious and political leaders thronged the capital city of Oyo State to be part of the history. People came from parts of the South-West, South-South and South-East. The dignitaries include the Ooni of Ife, Oba Enitan Adeyeye Ogunwusi; Chief John Nwodo, President General, Ohaneze Ndigbo; Chief Olu Falae, a former Secretary to the Federal Government; Afenifere chieftain, Prof Babatunde Adeniran; a former Minister of Education; Mr Ayodele Fayose, Governor of Ekiti State; Chief Ayo Adebanjo, Afenifere chieftain; Chief Reuben Fasoranti, Afenifere leader; Chief Afe Babalola,(SAN); Mr Walter Ofonagoro, a former Minister of Information; Chief Adeniyi Akintola(SAN), governorship aspirant in Oyo State; Senator Ike Nwachukwu, a former Minister of Foreign Affairs; Dr Doyin Okupe, a former media aide to former President Goodluck Jonathan;   Chief Mojisoluwa Akinfenwa, a former leader of the Alliance for Democracy; Dr Olatokunbo Awolowo-Dosunmu, daughter of the late sage, Chief Obafemi Awolowo;  former governors of Ogun and Ondo States, Otunba Gbenga Daniel and Dr Olusegun Mimiko; Senator Gbenga Kaka; Chief Femi Fani-Kayode, a former Minister of Aviation; Prof Idowu Sofola, President, Yoruba Council of Elders; Mr Wale Oshun; the Orangun of Ila, Oba Wahab Oyedokun; Oba Lekan Balogun, Otun Olubadan of Ibadanland; Oba Latifu Adebimpe, Ashipa Balogun of Ibadanland; Archbishop Ayo Ladigbolu, retired Archbishop of Methodist Church Nigeria; the Alaafin of Oyo, Oba Lamidi Adeyemi, who was represented by Bashorun of Oyo, High Chief Yusuf Ayoola; Mr Babatunde Oduyoye, AD chieftain; Dr Yemi Farunmbi, foremost Yoruba leader; Senator Babafemi Ojudu; Chief Gani Adams, Oodua Peoples Congress leader; Chief Labake Lawal; Otunba Adebola Olaife representing Ogun State Governor Ibikunle Amosun.
Though the turn-out was so impressive, some people at the event wondered why five governors from the South-West did not attend the meeting. The governors who were not physically seen at the programme are Rauf Aregbesola of Osun, Abiola Ajimobi of Oyo, Amosun, Akinwumi Ambode of Lagos and Rotimi Akeredolu of Ondo. Also, a former governor of Lagos State, Asiwaju Ahmed Bola Tinubu, was conspicuously absent.
Just before the programme started, Dr Kunle Olajide, Secretary General of  the Yoruba Council of Elders, announced that all the governors were invited and they were being expected. But, it was Governor Fayose of Ekiti State that was in attendance. Many people felt the importance of the summit, especially at this time when the clamor for restructuring is loud, should have spurred the governors to attend. Meanwhile, Ajimobi was said to have travelled out of the country a week earlier.
Looking at the array of the people at the summit, it appeared that majority were from the Peoples Democratic Party while one could count those from the All Progressives Congress on the tip of the fingers. In order not to attract unnecessary rivalry or add political colouration, Olajide, the Chairman, Planning Committee of the summit, spelt out the creeds that would guide the meeting.
He said, "There should be no reference to political party; no delusive reference to any ethnic group; no negative comments about past or current presidents of the country among others".
In spite of this, some of the speakers still alluded to political party. Former Governor Gbenga Daniel of Ogun State said restructuring was part of the PDP's programmes that would be followed to the letter.
Fayose, who was repeatedly applauded for attending the event in person, was a bit cautious in his speech. He pointedly told the Yoruba leaders there that they were the main cogs in the wheel of progress of the zone.
He said, pointing to the gathering,"You, our Yoruba leaders, are the problems we have.   You see those our forefathers like Chief Obafemi Awolowo and Chief Samuel Akintola have done their best. It is now left for us if we cannot continue on the good legacy they left behind. If a leopard has dogs at its back like soldiers, it will fight and die like dogs. But, if it leads dogs, they would fight together and win. You our elders should fight like leopard. Friendship does not want the truth. Where we are now? We, Yorubas, are our own problems."
Apparently alluding to the opinion of former President Olusegun Obasanjo who feels that restructuring is not the answer to the country's problem, Fayose said, "This is a well-attended meeting. Look at kings, religious and other reputable leaders of Yoruba. After now, you see one of our leaders on television saying restructuring is not the way out. There is no sense in such talks. A good leader should be on the side of the majority of the people. Some of those people were not supposed to have come from Yoruba. They are selfish; they only think of themselves".
He said he was not surprised that he did not see other governors from the zone there. According to him, "the lion has roared" to scare them. But, he said, he would talk and no one could gag him. "Nobody can kill whoever God does not kill. If they throw me into the river, I will be thrown out like Jonah; if they throw me into fire, I will be unscathed like Shadrach, Mesach and Abednego, and if thrown into lion's den, I will come out like Daniel".
Fani-Kayode, in his address, said, "Today's fight is a real one. They have turned us into slaves in this country. Let's stop pretending. We Yoruba people are very restrained, civilized, educated, very accommodating and liberal and, sometimes, that is used against us. The situation whereby we are second class citizens is unacceptable to me and to majority of Yoruba people. We knew what happened to Awolowo, what happened to Abiola and Obasanjo when he was there. They brought Sharia, Boko Haram. It's time for us to think again. We should do restructuring. If they say they don't want restructuring, then we call for Oduduwa Republic, end of story".
, who was the Chairman of the event, called for the outcome of the Sovereign National Conference, saying, "What we need today is the outcome of the conference which shall be the people's constitution and shall not be subject to any amendment by any of the organs of the existing Senate or House of Representatives. If necessary, it may be referred to a referendum. It is my view that the people's constitution should be in place before we attain 60 years after independence.
"It is restructuring that would curb over-concentration of power in the centre and reduce corruption, promote harmony and unity and make the country metamorphose into a nation".
Igbos speak
Nwodo, Nwachukwu and Ofonagoro said: "Since 1963, the people of Nigeria have never been allowed to write a constitution that will determine the way they are ruled. Is it wrong to have a say in your country? Is it right to be ruled by a document that you are not party to? What we are saying today is that the people of Nigeria must have a say in the way that they are governed. It is not only the Yoruba nation that is saying it, we the Igbo are saying it loud and clear.
"Many people have tried to destroy restructuring and I am saying that it is a ploy by some Nigerians to monopolise the God-given mineral resources in southern Nigeria. And those who are doing this do not love Nigeria."
Participants boo speakers who speak English
Like it happens in meetings where English Language is the means of communication, the summit was not an exception. But some participants believed to be members of Oodua People's Congress resisted this as speakers spoke in English. They booed anyone who spoke in English. All pleas by the organizers that the gathering also had some non-Yoruba speaking groups in attendance fell on deaf ears. Having this at the back of their minds, speakers like Ooni of Ife, Fayose, Niyi Akintola and others spoke in Yoruba while some tendered their apologies using non-Yoruba present at the occasion as an excuse.