…urges FG, Govs, traditional rulers on security
By CALEB AYANSINA
ABUJA – AS October first deadline given to southerners draws close, the Christian Association of Nigeria (CAN), Thursday, called on all Nigerians to stay where ever they reside without fear.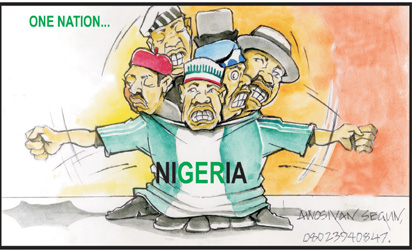 In spite of the withdrawer of the ultimatum given to southerners in the north by the Coalition of the Northern Groups, Vanguard can authoritatively report that there is still tension among the populace.
Consequently, the 19 Northern States and Abuja chapter of CAN (popularly called Northern CAN) said every Nigerian has right to live where ever they desire to live in any part of the country without fear of intimidation.
The Chairman, 19 Northern States and Abuja of CAN, Dr. Yakubu Pam, who stated this while speaking at the opening ceremony of a one day leadership summit organised by the group in Abuja, said they believed in the unity of Nigeria.
He said it is the primary responsibility of government at all levels, particularly the security agencies to ensure adequate security of lives and property of the every citizen, irrespective of their religion, ethnicity and the region.
"We come today as leadership of the northern Nigerian CAN to call our brothers and sisters from the south (Igbos), those at home, those that here (in the north), they should know that we are together, and we believe in the unity of this country.
"As spiritual fathers in the first place, we have prayed, they should be able to remove fear from their heart and relax wherever they are, there is no power that past power of prayer.
"Secondly, we call on the Federal Government, state Governors of various states to call on their people, we need to live together in peace. And security agencies should be up and doing, so that, our people (southern brothers) will not fear.
"We also call on our traditional rulers, particularly, in the areas, where the Igbo minority are found in the north, that the protection of lives and property are largely respected," Pam said.
The Presiding Bishop of the Dominion Chapel International, Bishop John Praise Daniel also admonished every Nigerian to be a peace maker in any position or level they found themselves.
"Peace is what every community needs, and we must all agitate for peace. Jesus is the prince of peace and the believers are followers of Christ, we must be agitators of peace. We cannot avoid as Christian to insinuate any other thing apart from peace in our nation. We must be peace maker at any levels," he said.