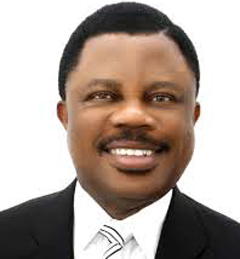 Gov. Obiano
By Nwafor Sunday
AS the slated November 18th gubernatorial election in Anambra draws close, newsmen gathered that Gov Willie Obiano, who seeks to return for the second time under APGA, perhaps to finish the good work he has for Ndi Anambra, has gathered more momentum and support via his campaign than other aspirants in the state.
On that note, however Ex-governor Peter Obi was reported by the National coordinator of APGA Media Warriors Forum, Evang Chinedu Obigwe, to be concocting lies along with Valentine Obienyem and Oseloka Obaze against Gov. Obiano, thus seeks for cheap political points.
According to Obigwe, the 'Godfatherism' role Obi is playing for Obaze intandem with his fallacious statements, allegations, antagonisms and criticisms against Willie Obiano will be shocked to his bones after Nov 18th election, that Gov. Obiano will be declared winner.
Obigwe urged the people of Anambra State to disregard Valentine Obienyem and Oseloka Obaze concocted tissue of lies against Governor Obiano saying that they are suffering out of office stress and reality syndrome.
He said that Obi was the masquerade that beat the drum they are dancing to its tune. Obigwe said that Mr Peter Obi's over bloated ego has blinded his eyes to the extent that he is not seeing the reality of the damage he is bringing upon himself by waging a political war against Governor Obiano.
Speaking further via a state issued Obigwe stated that when the devilish veil covering Obi's eyes will be removed is after the November 18th election, when the people of the State will use their voting power to teach him a bitter political lesson that will serve as a deterrent to other politicians that will like to play God in the State politics.
He said that Oseloka Obaze is nothing but a stooge doing the bidding of Mr Peter Obi, his greedy political godfather that is in dire need of 7billion naira from Governor Obiano. He stated that it will be in the best interest of the people of the State to reject the political vultures that want to feast on the State treasury.
According to Obigwe, Val Obienyem, Oseloka Obaze and Joe Martin Uzodike are out to suck Anambra State treasury. He also said the reason behind their relentless blackmail of Governor Obiano is because they are not happy that he removed their sucking mouth from Anambra State treasury.
He further said that no amount of falsehood concocted by the enemies of the State will stop Governor Obiano' s re election because of his wonderful and commendable work in Anambra State.
He charged electorates to use their voting power to shut the mouth of those who assumed the position of God and think they can do anything they want in Anambra.
Recalled that the federal government on Sunday said that as far as Federal Government appointments to public offices and key positions are concerned, the era of "godfatherism'' is over.
Therefore, people should not pay attention to godfatherisms with their tales, lies and other political idiocies but see effervescently the good work the action Gov Willie Obiano has done for them, Obigwe said.