The Igbo apex socio-political organization, Ohanaeze Ndigbo has assured that no harm will ever come to any northerner resident in the south east region of Nigeria. President General of Ohanaeze Ndigbo, Chief John Nwodo gave the assurance when he paid a courtesy visit to Gov.Abdullahi Ganduje at the Government House, Kano.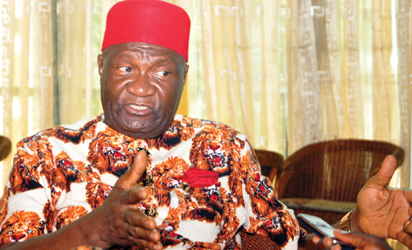 This is coming on the heels of the recent tensions in Rivers, Abia and Plateau states which led to curfew being earlier on declared in Abia and Plateau, although the curfew have been relaxed now.
According to Nwodo, every Nigerian could live in any part of the country of his choice without discrimination or harassment.
"Every Nigerian can live in any part of the country of his choice and no harm will ever come to a Northerner in the East.
"When the temperature is high, we tend to forget what binds us together and we forget the sweet past.
"If there was any disturbance in Kano where we have 1.6 million Igbos, the entire Igboland  would have been in mourning by now," he said.
Nwodo who commended the Sultan of Sokoto, Alhaji Sa'ad Abubakar III, and Kano state government for promoting peace and brotherhood among the people also said that the visit was to deliver the message of all Ndigbo and leaders in the zone.
"Nigeria should not experience war the second time as it will not augur well for the country.
"We must remain partners in progress of our country as we have seen how our own fathers lived to make it grow and develop."
He said that the unity and peaceful co-existence must be the responsibility of all.
The president then urged members of the group to remain law abiding, peaceful and respect the laws of Kano State in particular and the country in general.
Earlier, the state Acting Governor, Prof. Hafiz Abubakar told the delegation that the state would always be home for all Nigerians irrespective of their religious beliefs.
He said that people of Kano State accepted the Igbos as their brothers and called on them to continue to live in peace with one another for the socio-economic development of the country
Abubakar then called on Nigerians to always find an amicable and civilised way of handling issues.
"I am calling on Nigerians to always find an amicable and civilised way of settling disputes.
"Our diversity is a blessing and as a government, we are in constant dialogue with critical stakeholders in the state to promote peace and harmony," he said.
The acting governor then thanked them for the visit and assured them of the administration's commitment to promote peaceful coexistence among different groups in the state.