By Udeme Akpan
Nigeria's excess crude oil revenue has risen by 50 per cent between August and September, 2017 following the increase of price from $49 to $54 per barrel.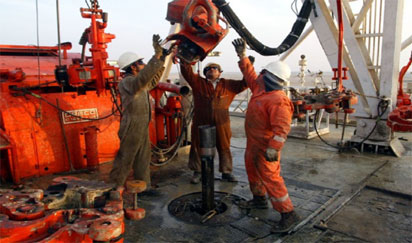 The excess oil revenue of the nation which has $44 per barrel as its budget 2017 reference price was $5 per barrel in August when crude oil price hovered at $49 per barrel.
But with the current price of over $54 per barrel, the nation's excess oil revenue has risen from $5 to $10 per barrel.
Consequently, at the current 2.2 barrels per day output, Nigeria would generate $22 million as its daily excess oil revenue, meaning that at the official exchange rate of N305 per a dollar, Nigeria would generate N610 million daily.
Vanguard survey of crude oil markets showed that the price of Brent which is usually used to benchmark the prices of other crudes stood at $54.30 per barrel yesterday.
While the price of WTI stood at $49.11 that of the Organisation of Petroleum Exporting Countries (OPEC) basket, including Nigeria's Bonny Light stood at $51.88 per barrel.
"The price of OPEC basket of fourteen crudes stood at $51.88 a barrel on Wednesday, compared with $50.82 the previous day, according to OPEC Secretariat calculations.
"The OPEC Reference Basket of Crudes (ORB) is made up of the following: Saharan Blend (Algeria), Girassol (Angola), Oriente (Ecuador), Zafiro (Equatorial Guinea), Rabi Light (Gabon), Iran Heavy (Islamic Republic of Iran), Basra Light (Iraq), Kuwait Export (Kuwait), Es Sider (Libya), Bonny Light (Nigeria), Qatar Marine (Qatar), Arab Light (Saudi Arabia), Murban (UAE) and Merey (Venezuela)."
OPEC prediction
Meanwhile, OPEC has predicted in its August report that the forecasts for world economic growth in 2017 and 2018 remain unchanged from the previous report at 3.4per cent, meaning continued market stability.
Specifically, the organisation indicated that India is expected to grow by 7.0per cent in 2017 and 7.5 per cent in 2018.
"Brazil and Russia are both forecast to expand their recovery to 0.5per cent and 1.2 per cent in 2017, respectively, and 1.5per cent and 1.4per cent in 2018. China has performed better than expected so far this year and is now forecast to grow by 6.7per cent in 2017 and by 6.3per cent in 2018.
Buhari's promise
President Muhammadu Buhari had in his 2017 budget speech stressed the need to diversify the nation's economy which still depends on the production and export of crude oil and natural gas.
"First we clearly understand the paradox that to diversify from oil we need oil revenues. You may recall that oil itself was exploited by investment from agricultural surpluses. We will now use oil revenues to revive our agriculture and industries. Though we cannot control the price of crude oil, we are determined to get our production back to at least 2.2 million barrels per day.
"Consistent with the views which have also been expressed by the National Assembly, we will continue our engagement with the communities in the Niger Delta to ensure that there is minimum disruption to oil production. The National Assembly, State and Local Governments, Traditional Rulers, Civil Society Organisations and Oil Companies must also do their part in this engagement. We must all come together to ensure peace reigns in the Niger Delta.
"In addition, we will continue our ongoing reforms to enhance the efficiency of the management of our oil and gas resources. To this effect, from January 2017, the Federal Government will no longer make provision for Joint Venture cash-calls. Going forward, all Joint Venture operations shall be subjected to a new funding mechanism, which will allow for Cost Recovery.
This new funding arrangement is expected to boost exploration and production activities, with resultant net positive impact on government revenues which can be allocated to infrastructure, agriculture, solid minerals and manufacturing sectors.
"I earlier mentioned our ambitions for policy harmonisation. But we all know that one of the peculiar problems of our environment is execution.
This phenomenon affects both government carrying out its own functions and the innumerable bureaucratic hurdles in doing business. To this end, I will be issuing some Executive Orders to ensure the facilitation and speeding up of government procurements and approvals.
Facilitation of business and commerce must be the major objective of government agencies. Government must not be the bottle neck. Additionally, these Executive Orders will widen the scope of compliance with the Fiscal Responsibility Act by Federal Government owned entities and promote support for local content in Ministries, Department and Agencies."