By Chioma Gabriel
Awka—Former Governor of Anambra State, Mr. Peter Obi, has described as malicious, wicked and ungodly, the report in a newspaper (not this newspaper), quoting him as having said that he would fight the Anambra election with the last drop of his blood.
Answering questions on the matter during the Awka Diocesan Laity Week in Awka, Obi said it was malicious, ungodly and wicked of anyone to ascribe such a language to him.
'Those who know me over the years will easily tell you that the statement is antithetical to everything I stand for,' Obi stated.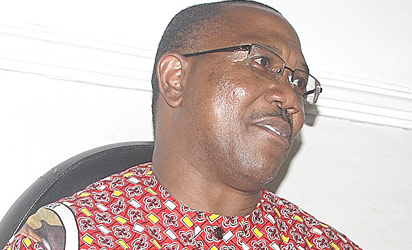 On the actual statement he made, Obi said he only encouraged the PDP people to embrace reconciliation and go to the election with everything that they have, especially as one, united family.
His words: 'I said the PDP would fight the election the way the PDP had never done before and that it would be the first time PDP conducted only one primary and that the party must reconcile now and go to the election as a united family. I emphasized the need for reconciliation by saying that what the PDP needed was reconciliation, reconciliation and reconciliation.'
Recalling his political odyssey, Obi said that he had gone through tough times in politics, including the denial of his victory in 2003, his impeachment in 2006, and the truncating of his tenure in 2007. He noted that in those critical times, even when his followers had different views, that he did   not make any statement, asking if it were now he is not contesting that he would make such a statement.
'During my time, I, as governor, welcomed other opposing parties that came to Anambra to campaign against me , at times, I provided them with logistics. I did that when Mr. Babatunde Fashola came to campaign for Dr. Chris Ngige and when   Dr. Orji Uzor Kalu   led the PPA   to campaign in the state- all against me, during the electioneering for my second tenure.Even when my people suggested we should place very high tariffs on billboards and posters, I refused, insisting that  in much as we sell our manifestos to the people, that the election should be prosecuted as one family. During the campaign for Gov. Willie Obiano, whether running around or in whatever   I did   at that time, we did not do it with the last drop of our blood. In all, I cannot use such a language even in my dream."
Obi said that in the eight years he was the governor of Anambra state, that   he worked passionately for the growth and development of Anambra State and has continued to do so, always   desisting from  anything, be it act or utterances, that is not expected in a fair game.
On the accusation that he went to a  shrine for the person he is supporting to remain obedient to him, Obi started by thanking the candidate of his party, Mr. Oseloka Obaze for engaging in campaign of issues. He advised those who had chosen blackmail to think twice, as, according to him, the campaign would be run by the incumbent, showcasing what he has done in four years to   be worthy of the confidence of the people and by   new candidates showing what they would do. "All I can tell you is that the story of shrine and related nonsense are clearly the antics of the opposition that is afraid of facing reality."