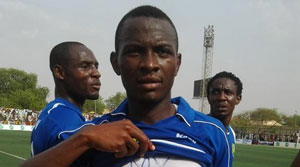 El-Kanemi Warriors
Osogbo – Osun United Football Club of Osogbo on Wednesday defeated visiting El-Kanemi Babes FC of Maiduguri 2-1 to advance to the quarter-finals stage of the men's competition of the Aiteo Cup.
Osun United came from a goal down to win in the Round of 16 match played at the Osogbo Township Stadium.
Ahmadu Abubakar had opened scoring for the visitors in the 24th minute of the match, with a lovely strike which was impossible for the Osun United goalkeeper to stop.
Victor Okeji equalised for the hosts in the 33rd minute, before Mamud Akorede nodded in a corner kick in the 88th minute to give Osun United a quarter-finals ticket.
Speaking to newsmen after the match, the coach of Osun United, Bayo Adesina, said he was happy his team eventually won the match.
He said he had to encourage and boost his players' morale and spirit in the dressing room during the first half break before they could raise their game.
"I charged them to go all out to win the game, which they eventually did,'' Adesina said.
The Technical Adviser of El-Kanemi Babes, Babagana Muhammed, in his own reaction said he was happy with the performance of his players.
He said his team played a very good side and he was delighted that, in spite of all the odds they faced his players still put up a good performance.
"I sincerely commend my players. We had a good game, but only lost about five minutes to the end of the game.
"We played a good side. This is like a division two team playing against a division one team and still putting up a very good performance. I really commend the players.
"In spite of the hiccups of our road journey and the fact that the players are owed 14 months' salary arrears, they still put up a very good performance.
"I must commend the players, because they played well,'' Muhammed said.(NAN)