By Joseph Erunke
ABUJA – THE Chief of Army Staff, Lt General Tukur Buratai, has said his leadership would only patronise world's best armed manufacturing firms in procurement of arms and ammunition, saying such measure was for efficiency of his organization.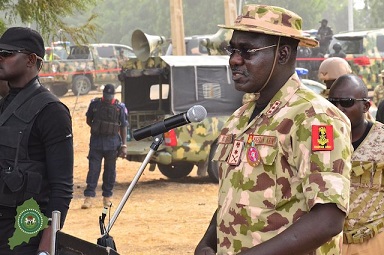 He said the initiative taken by him to go for the best for his organization,was also aimed at increasing local arm production as well as modernising equipment for personnel.
Speaking, Wednesday, in Abuja, during exhibition of some military hardwares, by some world's reputable arms producing firms, Buratai insisted that his administration would partner with formost arms producing companies so as to modernise the Nigerian Army.
The Army boss thanked the firms for choosing Nigeria go the exhibition, promising that the Nigerian Army,in particular, would not hesitate in taking advantage of the exhibition to partner with the firms to modernise it.
He said their presence would help in no small measures to modernise the Nigerian Army in line with contemporary development in science and technology.
"That is why we are collaborating with them.
"They came from different parts of the world, and we are really seeing the impact, the result of their various researches,"he noted.
Some of the military hardware showcased at the event were armoured vehicles, helicopter, army aviation, artillery, communication, ballistic vests (bullet proof) and other equipment used by land force.
Director of Peconian Ltd., one of the organisers of the exhibition, Phectim Rowe, speaking at the event,said there was the need for partnership between the Nigerian army and international arms manufacturers.
According to him, partnership was necessary in helping the army to produce modern equipment, using local content.