By Dapo Akinrefon
A lawyer and human rights activist, Mr Mike Igini was the Resident Electoral Commissioner for Cross River State before his reappointment and redeployment to Akwa Ibom State.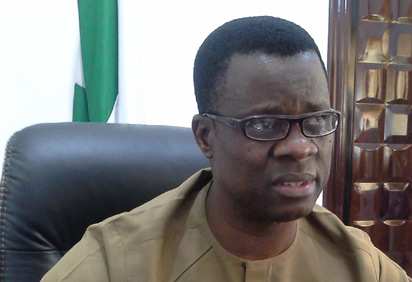 In this interview, Igini joins the list of Nigerians agitating for the restructuring of the country. He, however, opines that Nigeria may not record rapid success except there is a return to the1960 arrangement that brought about competition for development among then regional governments. Excerpts:
Having been reappointed as a REC, what should be the expectations of Nigerians given that we are still having problems with our electoral system?
First, election management is not a one-man show but a team work that requires the commitment of citizens because election is one of the largest, administratively and logistically, delicate, complex and all-involving activity that nations embark on in peace time.
And so, it requires total national effort, particularly the commitment of key national institutions like the umpire and security agencies that must not abuse their positions to favour one group to secure dubious electoral victory.
From me, Nigerians should not expect anything less until we are able to entrench a robust electoral process that can throw up competent and credible people who understand the nuances and praxis of development and are able to run the affairs of state at all levels. My commitment in this regard is unwavering. I will be fair to all who seek to participate in elections under my supervision by ensuring that electoral laws are enforced fully, fairly and impartially to all. As part of a team, we shall ensure that INEC remains an independent and effective national institution for the recruitment of competent and committed leaders through the conduct of periodic credible elections and not a tool for manipulation to achieve victory.
Every time we ensure that an election takes place freely and fairly and the results honestly counted to reflect how the people voted, it is the greatest respect we show to the people and that is what would happen here in Akwa lbom.
In your view, what are the competencies required to be a successful election manager, given the stakes involved and the extent politicians could go to buy their way?
Having been on this job previously, l can tell you that beyond the competencies required to carry   out   the mandate prescribed by the constitution, to plan, organize, undertake, supervise elections, conduct voter education, adopt best practices of democracy and to conduct oversight on political party activities, the overriding attribute is the strength of character of individuals entrusted with this sensitive public assignment. If you are morally and ethically challenged having not been able to deal with the crisis of human insatiable wants and able to separate wants   from needs, you may not be able to keep public trust and uphold higher values of probity and accountability required of the office of an umpire.   This job requires absolute impartiality from people called to do the assignment; there is no question of blood relation. You may have other requisite skills but to succeed in this job, you must have character because competencies without character is a great deal of disability.
The Senate appears determined to sanitize party primaries and convention processes to enhance internal democracy in the selection of party candidates given the proposed new amendments to the Act. Can this be achieved given the kind of politicians we have in Nigeria?
The Senate should be commended for the profound amendments it has proposed to the existing Electoral Act; it is revolutionary in terms of the context of electoral reforms because of the broad scope of changes proposed as we await the concurrence of the House of Representatives. I hope they sustain it, because if they carry it through, several of the amendments will greatly impact the quality of our elections. Political party primaries outcomes remain one of the greatest threats to our democracy in Nigeria. The reforms will help to sanitize the process so that parties respect their members' choices and preferences and have defined and enforceable laws guiding their conducts and not subject to multiple subjective interpretations.
From what we have come to know, politicians do not like unequivocal definitive rules, they want to leave loopholes thus making it possible to swing the law as they please rather than conform. Unfortunately, when they are the victims they cry to all ends but when they are the beneficiaries they extol it.
I believe that if you make the laws definitive and practice it, everyone will behave knowing there is a standard for everyone. I say the proposed changes are revolutionary because, even in advanced democracies, they also experience hegemonic resistance of elites to electoral reforms because politicians always want the laws to be in their electoral favour. So given some of the proposals introduced by the Senate, I can tell you, based on my field experience, that they will positively impact the credibility of elections if fully implemented because the devil really is implementation.
The work of the Senate in this respect is a great leap which is not easy for politicians to make but they have acted like statesmen and women with a consensus that indicates that sanity is required for the common good for a better polity.
What do you make of the fact that nothing is done in the area of election petition management as to whether a petition should be disposed of before swearing-in of winners and 'burden of proof' whether it should be on INEC and the issue of need for Electoral Offences Commission?
The question of litigation when people have been sworn into office is a fundamental one that needs to be addressed. This is despite efforts made in reduction of time with the amendment of Section 285 of the constitution. We should go back to the practice in 1979 and 1983 when all election petitions are resolved before people are sworn-in to avoid the use of public funds to prosecute individual political aspiration litigation and to avoid distraction of office holders from governing.
On the question of burden of proof, I have always maintained and have demonstrated by personal field example that the burden of proof of how well an election was conducted, if challenged, should first be placed on the umpire that conducted the election; made the return and also was in custody of the entire materials used for the election in line with the provision of the Evidence Act in Sections 136 Subsection (2) in particular and Section 140.
This burden of proof is not static and would shift to the petitioner who has petitioned, but first the umpire should place all relevant material evidence before the tribunal before it is shifted to the petitioner. Election matters are sui generis and of a special class that are usually treated differently in terms of practice and procedure. Recourse to Section 131 of the Evidence Act provision that whoever asserts has the onus of proof on the basis of which petitioners are placed with the back-breaking burden of proof should not be extended to election matters like other civil proceedings.
Election managers have both legal and moral duty to explain to the tribunal in rebuttal of the claims of the petitioner that they complied with the electoral legal framework in the conduct of the election and that the evidence substantially conforms with election result as declared. On the question of what appears to be a loud silence over the general call since 1999 for the establishment of an Electoral Offences Commission, l wish to say that every commendable efforts made so far to reform the electoral process will amount to nothing if electoral offenders are not tried and sent to jail.
In effect, you are calling for punishment of electoral offenders to stop election rigging and manipulation?
Absolutely, l am calling for increased deterrence because it is trite criminal axiom that a rewarded and unpunished wrongful act would be repeated. This is the problem and the tragedy of our country seeing people who have been engaged by highly placed individuals to undermine elections walk freely and beneficiaries of patronage that should be in prison occupy exalted public offices in the land.
To me, rather than go for a statutory Commission with all the problems of another bureaucracy, corruption and the politics of who should head such Commission and mode of appointment and such Commission becoming another national headache, l propose that   some carefully selected judges be made to constitute an Electoral Offences Tribunal with units across the country, like the election petition tribunal to be inaugurated from the time of commencement of voters registration when the act of rigging election begins with politicians colluding with registration officers.
If the tribunal is able to convict as many offenders as possible, many people would be restrained and afraid to violate or allow themselves to be used during the main election for rigging. We can also adopt the practice of other countries like the US and even in Kenya where all divisions of court are on standby on election day to deal with cases brought before them over electoral violations.
As a lawyer, how can the judiciary help to stem the tide of electoral irregularities and fraud?
I have been critical of my constituency in many respects borne out of my love for the noble profession. Lawyers either in the bar or bench are supposed to be trusted and that is the reason people go to lawyers to solve their problems but we are today losing the trust and relevance because of the collapse of values and professional ethics. We have jettisoned integrity and honour hitherto associated with lawyers because of politicians who are ever ready to buy their way to keep power not minding the damage to our institutions. But see what our colleagues in the bench at the level of the Supreme Court did in Kenya annulling a presidential election for the failure by the IEBC to adhere to what it called the "dictates of the constitution".
That is what the Supreme Court should have done here in 2007 when the presidential election was conducted in breach of the constitution and the Act as ballot papers were not serialized and some ballot papers for the same election were still in South Africa. Our colleagues, especially a few celebrated senior ones, that should show good examples have abandoned legal traditions and practices for short term expedient benefits.
Many Nigerians feel that government has performed below expectations in terms of delivery of democratic dividends and are disillusioned of democracy. What do you think?
One of the deficiencies of governance and democratic practices around the world currently is that, guiding indicators of governance performance for the public sector are still evolving. Such indicators, if they are available, clear and understood, will help to keep public sector players on their toes in terms of periodic scorecards of public expectation.
We see how the private sector uses metrics such as return on investments, return on equity, quarterly profits and so on to evaluate the performance of chief executives but the public sphere has no parallel metrics to account to voters on expected benefits and deliverables. So if we must address issues of expectations holistically, we must advance the development of such scorecards, otherwise electing public officials without such clear performance indicators would be like sending a child to school without an examination syllabus. So developing scorecards will not only be a guide of performance for elected officials, it will also be a guide for expectations for voters and electors.
The truth is that most of the issues that affect most people are supposed to be handled from local governments, but tragically our federal system has been operated as if the federal government can easily reach every corner of the country in good time, which is a factual impossibility. There should be a paradigm structural change that removes focus from centre to the federating units and unless that is done, hundreds of regimes would come and go without any fundamental leap in development and we shall remain trapped in unmet expectations.
Are you attributing most of the failure of performance to structural gridlock as the advocates of restructuring maintain?
We should be able to tell ourselves the home truths by acknowledging the genuine and patriotic argument of those you referred to as advocates of re-organization or restructuring, which is necessary for self-discovery, for the attainment of the potentials of the country. More governments would come and go and we will not make real progress with this kind of gridlock that we find ourselves except we return to the template of the 1960 independence federal arrangement that brought about the phenomenal competitive developments in the First Republic.   Recall our excitement for   independence and the lofty aspiration then about the potentials and greatness of Nigeria, which led to the declaration by United States President J.F Kennedy then that, ''a great child had been born in Africa that would be like America in twelve years' time". Today how old is Nigeria as an independent country? Almost 57 years and here we are still grappling with the intricacies of how to even live together as a people.
Are you saying that progress will be difficult if states are not given more autonomy on several matters?
Let me give you an example from Delta State, where there is a federal road from Amukpe/Agalokpe, through Eku down to Agbor, that has remained impassable since when l was in secondary school. To go to my place normally should take less than 30 minutes from Amukpe through Aghalokpe, Oviore, Ovu Okpara down to Kokori. Now you have to go round and round through Warri for over an hour which is   a circumvention of the route.
Why should we have a federal road that no federal official of significance go through and the owner is not even aware that such a structure has become a death trap, whereas that road ought to have been the responsibility of the state which has tried to maintain it over time?   This is why we must re-examine exigently the case for restructuring, it must be seen from the point of view of how to unburden the federal and state authorities from many needless obligations that the constitution has erroneously concentrated to them, and therefore we need to have a bottom-up participatory development model for our democratic efforts, otherwise government may expend much efforts but not much impact will be felt.
What will be the expected desired outcome for measuring the service delivery of INEC for instance?
Here in Akwa lbom under my watch, credible, transparent and acceptable election would be the key metrics for INEC performance. We are not where we should be yet but Nigerians could attest to the fact that since 2011, 2015 up till date, the Commission has made steady progress in developing innovative electoral service delivery templates, starting with the successful nationwide compilation of biometric voters register, followed by the production of the PVC and the introduction of the Smart Card Readers that marked a paradigm shift as well as brought about tremendous hope of electoral integrity and credibility. With all sense of modesty, some people have also argued that the progress made so far is unequalled in our prior quest to build an electoral system that would sustain our democracy.
Unlike the 2003 and 2007 era, now no more pre-writing of election results in Government Houses, announcement and declaration of governorship   election results in INEC Headquarters in Abuja instead of the states where the elections were conducted and other forms of organized electoral fraud   supervised by the State in the name of election.
The steady incremental progress made so far by the Commission can be measured as evidenced by the elections conducted since 2011 and as we look forward to the 2019 elections for further improvement, especially with the proposed new amendments by the Senate to strengthen the card reader, instead of a reversal of the thresholds that we have crossed.
Furthermore, periodic, credible and acceptable elections is the key expectation from INEC to meet the minimal goal of democracy while those elected and appointed must fulfil   the maximal goal of democracy through well thought out   policy options and priorities to deliver development to the people.