By Onome Amawhe
Real estate powerhouse Paul Onwunanibe, is widely known for his "can-do" attitude and big smile – even in a recessed housing economy. As founder of Landmark Africa, one of Nigeria's leading real estate development company that provides international standard mixed-use developments to major multinationals operating in the Pan-African region, Paul exudes enthusiasm as a leader and an entrepreneur.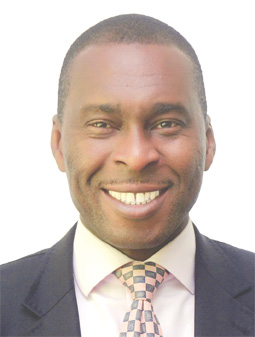 Bolstered by more than two decades in the real estate industry, Paul has tenaciously led the company in creating a portfolio of some of the most esteemed properties including the Landmark Event Centre, Landmark Towers, Landmark Village, Landmark Hotel and the on-going construction ofthe next phase of the Landmark Village project, which will include residential apartments, a training center and cinema. Landmark has also developed or managed an array of 130,000 m2 in prime real estate across the continent.
Headquartered in Lagos, with offices in several countries including South Africa and the United Kingdom, Landmark Africa's value proposition is to respond to clients' changing needs as reflected in its "LIVE.WORK. PLAY" philosophy. Throughout a prolific real estate career, Paul has prided himself on his organizational abilities, thoroughness, and patience. More importantly, he clearly understands the real estate deficits of the market he serves.
His tenacity paid off recently when, in 2016, Vantage Capital, Africa's largest mezzanine fund manager, provided $20 million of funding to Landmark Africa. This feat was capped last December when Landmark emerged as the best developer in the Leisure/Hotel category in Nigeria during the annual global Real Estate Survey by International Finance magazine, Euromoney. In its wake Paul envisions Landmark forging ahead with its vision to create onestop destinations which embody the Live.
Work. Play philosophy andachieve its $1bn valuation mark. His vision, however, transcends Nigeria and having catered to the needs of Fortune 500 companies across West, East andSouth Africa, Paul opines that Landmark Africa is well positioned to be a force to be reckoned with in the Pan African real estate market.
LANDMARK Africa emerged on the Nigerian real estate and property development scene in 2003, how did the idea take shape?
The Landmark journey started in 1997 with our first Serviced Office in Mayfair, London. My vision was to provide short to medium term office solutions to various organizations across Europe. However, as a Nigerian, I always had a passion to bring my business home to Africa which was an untapped market with tremendous growth potential. In 2003, I made the bold move and established our first serviced office in Lagos, Nigeria, expanding the business into 7 serviced offices across 5 countries in Africa in 10 years. During this time, we served some of the world's largest Fortune 500 companies and became the second largest serviced office company in Africa. We identified a shortfall in good quality Grade A office buildings across the region, and given my background as an architect, my solution to this challenge was to design and build our own office buildings that meet the exact needs of our multinational clientele. We haven't looked back since.
What were the deficits Landmark felt needed to be addressed at the time it commenced operations?
The biggest issue was the quality of real estate available in both East and West Africa back then. Many of the Fortune 500 companies we served were seeking purpose built Grade A office spaces that aligned with their established brand images, however most of what was available were residential properties converted into commercial office spaces.  Another issue our clients wanted to address was the security concerns and traffic associated with doing business in this region, so location is key. They wanted an environment where their employees and visitors could live, work and play, all within one secure location. We therefore built our development company around a Live. Work. Play ethos. This mixed-use concept has become the core of what we do.
What lead the company to the niche of Elite real estate—- mixed-use office, leisure and residential space?
We were simply meeting a need. Multinational and domestic companies were seeking multi-use environments similar to what you would find in Canary Wharf in London, Rockefeller Centre in New York, or Rosebank in Johannesburg, however there was literally no supply of this type of development here in West Africa. Our mission was therefore to provide world-class business environments across Africa to cater for both international and local companies seeking to conduct business in an executive one-stop shop setting. Mixed use developments have many advantages to both the user and the developer…when done well. They provide users with the security and convenience of having everything they need within close proximity; and in turn provide the developer with a diversified portfolio of assets which strengthens your income profile.
Landmark Africa recently unveiled Landmark Village, what is this about?
Our largest and most ambitious project to date has to be the Landmark Village which is a 38,000sqm beachfront site in Victoria Island being developed into the premier business, leisure and lifestyle destination along the Atlantic Ocean coastline. The project is being built in several phases and once complete, it will boast 150,000sqm of retail, hospitality, office, hotel and residential space. We commenced the first phase of the development in 2014 and the mixed-use location now welcomes up to 10,000 visitors a week to the Landmark Centre, Hard Rock Café and Shiro Restaurants. From 2018 onwards, we will launch a Film house IMAX Cinema, the Renaissance Landmark Lagos Hotel and Marriott Executive Apartments, a Family Entertainment Centre with bumper cars and arcade games, the Luxury Landmark Waterview Apartments for sale, and a vibrant Retail Plaza and Beach Club.
The Landmark Event Center in Lagos seems to be your flagship property in Nigeria? Correct?
The Landmark Centre at the Landmark Village is the largest and most popular events center in Nigeria at the moment, and we are very proud of that. We have hosted many high-profile events including the Annual Google Conference, the Facebook event which had Mark Zuckerberg in attendance, the globally popular Social Media Week, and some of the largest annual Agriculture and Building Expositions in Africa.
Tell us about your other projects?
Our Landmark House building in Ikeja was one of our first mixed use developments which we completed in 2014. The 4,500sqm building provides both office and restaurant space and is fully occupied with multi-national firms.
Our Landmark Tower building in Victoria Island is a vertical representation of our "Live, Work, Play" theme. The 11-story building offers office, retail, leisure, hotel and residential accommodation, all with stunning views of the Atlantic Ocean.
Our Landmark City project is an 80,000sqm beachfront site also along the Atlantic Ocean, and is being master planned into an even larger expression of our Live.Work. Play mixed use scheme. This project which we aim to commence by 2020, will include over 300,000sqm of space including a resort hotel, golf course and club house, retail high street, corporate offices and residential communities.
What has been the most interesting property you have listed to date?
We've recently launched the sales and marketing for our Landmark Waterview Apartments at the Landmark Village. This project is interesting  as we are offering our buyers an opportunity to buy their apartments as a Grey Shell, giving them the flexibility to design their home exactly to their own personal style and specifications. From the kitchen layout, to the style of the bathrooms, or the color of the floor tiles…the choice is theirs. It is tailor-made luxury, and your apartment will be unique to you.
How is the company funded?
The sponsors invested quite a significant amount of capital to build the business, and we also work with institutional local and international financiers that understand our industry and share our vision of a dynamic property development business.
Tell us about other projects you are working on right now?
Our Landmark Dream Theatre project in heart of Lagos is in the early development stage. The project is being designed to be a 20,000 capacity multi-purpose all-weather center for sports and live shows, with an arts and culture auditorium, a 4-star hotel with 75 rooms, and retail facilities. Once complete it will be the largest in-city Arena in Sub-Saharan Africa.
 Incorporating green / energy-efficient methods into real estate is becoming popular. Is Landmark incorporating any green methods into its development?
Energy efficiency is always a priority for us as building owners, as it helps to reduce our running costs which in turn increases our tenant satisfaction. Typically, energy and maintenance costs are passed on to tenants through the service charge, therefore high energy costs can result in unhappy tenants and low building occupancy; leading to low profitability for us as a company.
 What development trends do you see becoming popular over the next few years?
I believe mixed use developments will become increasingly popular as it offers the ultimate lifestyle experience with an element of comfort and security that many Nigerian's seek. At present it denotes a sense of class and sophistication as mixed-use developments are seen as unique, high end schemes. However, within the next 10 years, Nigeria will see mixed use developments as the norm, addressing simple issues such as accessibility and traffic, while offering developers with a diversified portfolio with great investment returns.
Property marketing is a complex beast – there's strategy, investment, community development, storytelling, brand placement, digital and social marketing. How does Landmark initiate the process of successfully marketing its properties?
We have very experienced in-house teams with expertise in strategy, fund raising, branding, sales and marketing. We also have an extremely loyal client base, having served some of the world's largest companies successfully over the past 20 years. More importantly however, our reputation for building efficient, professionally managed, Grade A properties is our biggest marketing tool.