By Marie-Therese Nanlong
There was tension Thursday evening at the Jos City center especially the Ahmadu Bello Way as well as other surrounding communities of Apata, Chobe, Katako all in Jos North local government area as residents were seen hurriedly locking up shops and some vacating their homes for reasons no one could actually say.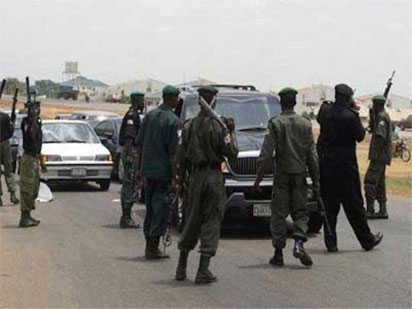 The panicky movements generated many versions of rumours causing fears among residents and making security agents to patrol the affected areas and other troubled spots in the city.
Unconfirmed reports say some people had lost their lives in the pandemonium but security sources debunk such saying "no one died as the result of the panic"
According to a resident of Apata, Chijioke Nna, who sells at the Terminus Market, "I saw people hurriedly locking their shops and I also locked mine, on getting to the road to get Keke to my house in Chobe, I discover the area was deserted and passengers were stranded so people started running along the routes to their houses avoid any unpalatable situation."
The Police Public Relations Officer, PPRO, Mathias Tyopev told Vanguard, "The news that Igbo were killing people in the East was becoming too much for the Igbo and they were receiving too many calls so they decided to close their shops and go home. Because people saw them closing earlier than usual, they too started to close their shops.
"The urgency which people were locking up shops caused apprehension and people that were coming out at once, looking for Keke at the same time and could not even get means of transportation started running towards their houses.
"The whole situation is under control because our people are on patrol; people should just desist from spreading false rumours and go about their businesses."
However, the State Government had declared a dusk to dawn curfew in the Jos and Bukuru metropolis with a urge on citizens to remain law abiding as security and welfare of citizens are the primary concern of government.
In a statement issued last night and signed by Emmanuel Nanle, the Governor Simon Lalong's Director of Press and Public Affairs, he said, "The Governor of Plateau State has expressed great dismay at the sudden build up tension in Jos metropolis on account of the conduct of some disgruntled elements who have decided to throw the metropolis into confusion.
"Consequently, the Governor has directed an immediate imposition of curfew from dusk to dawn (6pm to 6am) within the greater Jos – Bukuru metropolis till further notice. The deployment of security personnel to all flash points within the metropolis has also been directed to ensure compliance with the curfew order and avert any further breach of law and order."