By Anthony Ogbonna
The Managing Director of Capital Oil and Gas Limited, Dr. Ifeanyi Ubah, Thursday, said that the Peoples Democratic Party, PDP, is digging its grave for suspending him from the party.
He also said that in his entire life, he has never gained anything from PDP.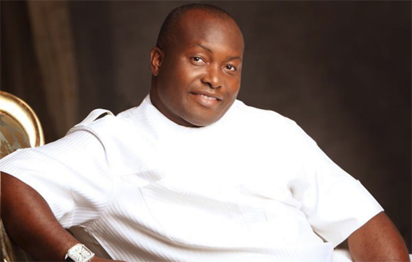 Dr. Ubah gave the statement during an interview with Channels Television'sPolitics Today shortly after he was suspended by the National Working Committee of the party over what they described as "disparaging and unfounded" claims against some party members and elders.
PDP had said that Dr. Ifeanyi Ubah made several allegations against the party and so it decided to query him.
Dr. Ubah had expressed his dissatisfaction with the decisions of the PDP leadership on the report of the Anambra Governorship Appeal Panel after he raised some allegations of rigging in the governorship primary conducted by the party.
The party said it had referred the matter to its National Disciplinary Committee for further action.
But Dr. Ubah, however said that he was laughing when he heard about his suspension by the PDP leadership, saying he had not gained anything from the party.
"I am not doing this because of myself, I have not for once gained one single thing from PDP in my entire life and I stand to be challenged if PDP can tell anybody anything that they gave to me," he said.
"I want Nigerians to know that also, even before I presented this case to the public, I personally presented it to the former president (Goodluck Jonathan)."
"injustice", following the election of Honourable Oseloka Obaze as the PDP flagbearer for the Anambra State governorship election.
"When you are presenting a clean, clear case before the panel, and after that they still uphold injustice. So, they are still digging their graves. I am not in this business to castigate anybody but I am here to seek justice," he said.
"Impunity must stop, our electoral processes must strictly be adhered to with laydown rules according to the constitution of the party.
"Let nobody blame me today and I complained, I sent texts to every PDP Board of Trustees (BoT) member about the impunity and nobody did anything," he alleged.
Dr. Ubah also denied ever receiving  any query from PDP.
He said, "Please I have not received any query and I can as well prove a point that as at yesterday (Wednesday) morning, I am still exchanging text messages with the chairman (Senator Ahmed Makarfi).
"So if I have any query, he would have even sent me to go and respond to my query," he added.