A coalition of pro-democracy and good governance groups under the aegis, Frustrated Nigerians Movement, has commended the governors and people of the south eastern part of Nigeria for what it described as saving the country from another civil war, following the recent tension that arose in Nigeria over clash between the Indigenous People of Biafra, IPOB and the Nigerian army.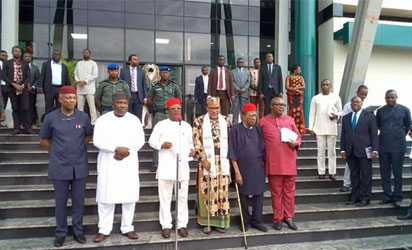 The coalition made up of groups such as the OurMumuDonDo, Concerned Nigerians and Campaign For Democracy, also commended the south east governors for displaying the first mature step in dealing with the tension.
In a statement signed by Charles Oputa, a.k.a Charly Boy for OurMumuDonDo movement,  Deji Adeyanju for Concerned Nigerians and Bako Abdul Usman on behalf of Campaign For Democracy, the coalition also urged  the governors including their colleagues in other states to continue to take actions towards the continuous protection of the country's unity.
According to the statement, "We the members of all the Frustrated Nigerians Movement, a coalition of OurMumuDonDo, Concerned Nigerians and Campaign For Democracy commend the governors of the South Eastern States for the manner in which they have handled the rising threat to the continued unity of the country posed by recent calls for secession.
"The maturity and calmness displayed by the Governors in the face of the Federal Government's heavy handed approach and the provocative disposition of the Indigenous People of Biafra (IPOB) has averted further confrontations which were likely to be bloody and even more likely to stoke ethnic and religious tensions around the country.
"We call on the Governors of the South Eastern States, as well as all Governors of all States in the country, to continue to do more to preserve and foster national unity and the safety and security of all Nigerians nationwide."