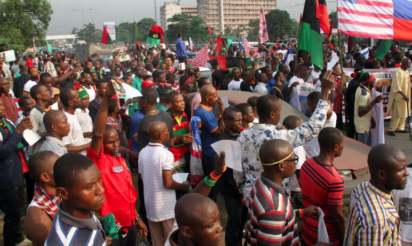 Nwoko's murder: Our hands are clean – IPOB
A cleric, Rev. Maxwell Onyia, has advised Nigerians to unite and be tolerant of one another in order to build a peaceful country.
Onyi called on members of the Indigenous People of Biafra, IPOB, Arewa youths and other marginalized cum agitating organizations to cuddle one another with love for a peaceful nation.
He gave the advice in his homily at the Anglican Church of Ascension, Enugu on Sunday.
The cleric said that no society could develop in a society fraught with hatred and division.
He called on the country's political elites and community leaders to continue to preach love and to implement programmes that would promote peaceful co-existence among Nigerians irrespective of their ethnic and religious leanings.
Onyia further advised Nigerians to be security-conscious and report to the appropriate authority any suspicious happenings in their immediate environments.
He lauded the police and other security agencies for preventing the breach of security in various parts of the country.
He said that the church would continue to pray for the good of the land and for God to grant leaders of the country the wisdom to lead the country properly.
"With God everything is possible.
"So, I am appealing to Nigerians to join us as we pray and act positively to get our country out of poverty and hunger for the common good of all,'' the cleric said.
NAN