Meka Olowola is the Managing Partner of Zenera Consulting. A branding and communications advisory firm with a Nigerian's foremost Energy practice with two offices in Nigeria and one in London.
Meka has served Nigeria as a Member of the Special Subcommittee on Nigeria's Hosting of the World Economic Forum on Africa in 2014.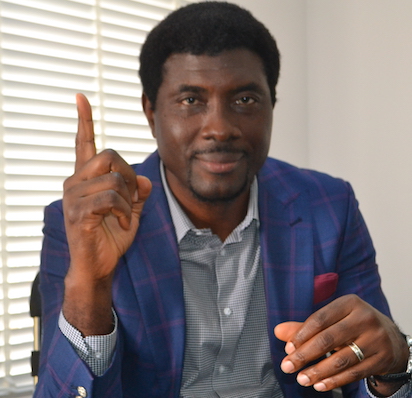 He also doubles as the Chairman of the BuzzzDigital, a digital marketing advisory firm based in Lagos.
With over 20 years' cross-functional experience in communications straddling Public Relations, Banking as well as Oil and Gas, he is a much sought-after communications expert.
Born in Kogi State, Meka had his secondary education at the Federal Government College, Ogbomosho, Oyo State.
The Ahmadu Bello University Graduate of Physiology has to his credit a Change Management Certificate from the Colorado State University, USA. Olowola is a major exponent of sustainability in Africa.
He belongs to several regulatory bodies such as the Nigerian Institute of Public Relations, Advertising Practitioners Council of Nigeria, Nigerian Institute of Management, Certified Marketing Communications Institute of Nigeria, National Institute of Marketing, Nigeria and Chartered Institute of Public Relations, UK. Just as he is also on the Board of the Nigeria Zimbabwe
As an oil and gas expert, he identifies and advises on critical improvements for corporates and governments, and organises the Sustainability in the Extractive Industries (SITEI) Series currently in its 6th year. In this chat, he critically analyses the Oil and Gas industry in Nigeria. Excerpts:
Nigeria's oil sector is in turmoil. What, in your opinion, could be responsible?
Needless to say, there's been a crash in global oil prices and the ripple effect is mostly responsible for this seeming turmoil.
Then again, over the last few months, the spate of pipeline bombings has increased and currently costs Nigeria about 1.3 billion barrels of crude oil daily. The resultant shutdowns and shut-ins are of course affecting oil revenue. Recently, Minister of State for Petroleum Resources Ibe Kachikwu disclosed that since January, 1600 cases of pipeline vandalism had been recorded.
Nigeria needs to ramp up daily production by 1.1 million barrels per day to close the gap. Crude oil exports account for about 70 per cent of Nigeria's revenue and 90 per cent of her foreign exchange earnings. So if pipeline vandalism persists, you can imagine how much impact this would have on the industry and economy.
The dilapidated state of our refineries is also a major factor. Despite the huge capital investment to turn them around, no significant improvement has been recorded. The past administration shopped for a $1.6 billion loan to revamp these same four refineries, all to no avail.
This administration seems to be toeing the turnaround path as well. Note that these refineries have seldom been known to function near full capacity, and more money has been spent turning them around compared to their output over the years.
Please explain the JV and PSC options in Oil and Gas industry in Nigeria ?
In existing Joint Venture (JV) arrangements between the NNPC and the International Oil Companies (IOC's)s, NNPC contributes about 55 per cent of the funding requirement, while the IOC's make up the outstanding 45 per cent.
Contrastively, the Production Sharing Contract (PSC) is solely funded by the IOC's, even though the NNPC can participate in the venture as a working interest owner. However, both arrangements come with their setbacks.
The government is leery of JV arrangements due to funding constraints. As you well know, the NNPC has been unable to meet up with its cash call obligations under the JV arrangement due to cash inflow challenges occasioned by the drop in global oil prices and related factors.
The result is accumulated cash-call arrears to the tune of about $7 billion at the last count. Naturally, the IOC's are hedging their bets. They have resorted to selling their JV stakes to local entities. So this option may not be viable.
The PSC arrangement looks like a much better bet since the government is under no funding obligation. Under this arrangement, IOC's are not refunded their exploration cost or paid royalty if oil is not found in commercial quantities in the course of such projects.
However, this doesn't look good for national growth. Currently, the number of PSC projects solely funded by the IOC's is on the increase. Nigeria could do a lot better for itself as one of the largest economies in Africa. I'm sure the government is looking for a win-win, which explains Kachikwu's proposed Accelerated Upstream Funding model.
How has IOC's diversification affected the industry?
I would say it is a blessing in disguise. The divestments that we've seen have been to indigenous players. So the likes of Aiteo, Oando, Seplat, Nestoil, First Hydrocarbons, Shoreline, Eroton, Amni etc of Nigeria are the winners. And because they are indigenous, they are less likely to have capital flight.
Rather, they are more likely to have indigenous contractors and Nigerians working on those assets.
Lastly and perhaps more importantly, community relations will be at the forefront of local operators. So Nigeria stands to gain in multiple folds from manpower development to reduction in unemployment and other corollary benefits.
Apart from crashing oil price that has prompted cut in field development, IOC's over time have not made substantial investment, what is responsible for this?
The uncertainty in the market caused by the delayed-passage of the PIB has a major influence on this state of affairs. That notwithstanding, we cannot discount the security situation in the Niger Delta region. IOC's operating in the Niger Delta region would naturally be wary of making sustainable investments in such an uncertain environment.
The surge in oil pipeline vandalism was so high that it had made Nigeria temporarily cede its position to Angola as Africa's top crude oil producer. This is obviously the result of having about 380,000 barrels of crude oil per day shut-in due to vandalism of the 48-inch sub-sea export line in February this year.
Then again, I'm sure the investment climate has not been favourable for the IOC's. The NNPC has been unable to honour its cash calls in Joint Venture agreements. As a result, most IOC's are selling their stakes in JVs to local entities.
What by your estimation is Nigeria losing from IOC's lack of sustainable investment?
The Nigerian Extractive Industries Transparency Initiative (NEITI) recently disclosed that Nigeria has lost about $200 billion as a result of the non-passage of the PIB.
If you add the lost arbitrage of high oil prices put at $10 billion, when we should have seen significant investments in the industry due to oil prices hovering over $100 bpd, I will put the aggregate loss at $210 billion at the minimum.
If the trend continues, it will not bode well for the oil and gas industry and Nigeria, by extension. Let's not forget that today, Nigeria's crude oil exports are sustained by oil production from deep offshore fields such as Shell's Bonga, ExxonMobil's Erha and Total's Akpo and Usan, among others. If these reserves are not replenished, then we are going to face serious issues in the nest 20 years.
Can you suggest ways the Corporation could properly restructure that it will operate like its contemporaries?
I think strict adherence to the provisions of the proposed Petroleum Industry Governance Bill would be the best bet to reposition the NNPC for effectiveness. Besides, technological innovation is key.
Petrobras, Petronas and Statoil have invested in deep-water technologies, while NNPC is still playing catch-up with Joint Venture projects.
In a World Bank report that I read, 18 of the top 25 oil and gas producers are national oil companies and collectively control over 75 per cent of oil production and 90 per cent of the world's oil reserves.
NNPC needs to play in the global economy like its counterparts in the developed world.
The projection is that energy demand will rise by 20 per cent in the run-up to 2025 and National Oil Companies (NOC) will have a lot more influence on the global economy. NNPC has to reinvent itself to exploit these opportunities ahead of time.
It also needs fresh partners with the financial muscle and appropriate corporate governance to take the country to the next level. I see a new set of indigenous majors emerging in the short term that will take over the entire market, players like Petrolex Oil and Gas who have been working assiduously quietly in the last four years with formidable investments across the value chain.
With government shopping for new players with unblemished records, superior capacity and the financial wherewithal, we will wake up one day and companies like that would have taken over the market.
If you should assess Indigenous producers, could you say they are doing well?
So, so.
What have been their challenges and how can they surmount them?
Local operators have been negatively impacted by the falling oil prices on the international market. To remain profitable amidst this turbulent period, most have had to rationalise their operations and adopt several other cost-saving measures.
Government needs to provide the enabling environment for their businesses to thrive because to remain profitable they need low maintenance and operational costs of existing assets.
They need proactive local capacity development so there would be less dependence on foreign companies to drive profitability.
Do you think the industry is properly regulated going by NEITI revelations that IOC's are not remitting what they earn?
No, I don't. I think a lot can be said about regulation in the Nigerian oil and gas industry if IOC's could owe the government the aggregated sum of $600 million, as revealed by the NEITI Report in 2013. Clearly, there hasn't been enough political will by successive governments to implement the recommendations of the NEITI on remediation, and that is largely responsible for the huge debts owed by the IOCs.
In the report, the Petroleum Profit Tax (PPT) from Chevron and Mobil was grossly understated, largely because the Memorandum of Understanding (MoU) between the government and IOCs has yet to be reviewed.
It goes without saying that there is a need for periodic reviews of MoUs; otherwise we'll continue to have shortfalls in the taxes remitted by IOCs.
Can you give an overview of marginal field operations over the last 10 years and whether the policy has realised its objectives?
Government introduced the Marginal oil field programme in 2003 to encourage indigenous participation in the Nigerian petroleum sector and also to grow the country's crude oil and gas reserves. But clearly, the programme has not achieved its stated objectives.
Within this 10-year timeframe, the active marginal field operators have only been able to grow their reserves from 141 million barrels to 302.6 million barrels. That, of course, makes you wonder if they will be able to meet the target 100,000 barrels of oil per day in 2020.
In 2003, a total of 24 fields were allotted to 31 companies. But of that number, only 9 have been identified as productive by the DPR. It is this small number that is even responsible for the 302.6 million barrels I earlier mentioned.
NNPC recently disclosed that the marginal fields operators only accounted for 3.09 per cent of the country's crude oil output between June 2015 and May 2016. Clearly, the marginal field operators lack the financial capacity to develop the marginal fields allotted to them, which the NNPC duly identified. We look forward to the next round due in the next couple of months.
On the gas sub-sector, what policies are required to attract investment?
With the slump in oil prices on the international market, gas presents a viable alternative. Nigeria is blessed with abundant reserves of associated and non-associated gas in excess of 180 trillion (standard) cubic feet (tcf). So it is hardly surprising that the country is ranked 9th in terms of proven natural gas reserves in the world.
In terms of policy, I think there is a need for regulatory, licensing and fiscal reforms to boost investor confidence. For instance, the government has been able to attract foreign investment worth $15billion to grow the LNG capacity from a two-train complex to a six-train plant. This, naturally, has boosted employment generation and opened up opportunities for further investments.
But if the government reneges on the promises it made to the foreign investors, the trend may reverse. The NLNG Act is sacrosanct and should not be amended without due recourse to the parties involved.
I also concur with the Minister of State for Petroleum Resources that there is the need for a comprehensive gas policy to commercialise gas flare so we can see an increase in generation capacity and promote domestic use of LPG.
How can Nigeria benefit from its huge gas reserves?
I think dealing with pipeline vandalism in the Niger Delta would be the first step. As a result of this unfortunate development, there has been a shut-in of 850 million standard cubic feet of gas daily, and power outage exposure of 2,700 megawatts (MW) to 3,000 mw. Secondly, I'm sure the comprehensive gas policy proposed by Ibe Kachikwu would help commercialise gas flare so we can see an increase in generation capacity in record time.
Do you foresee deal on supply freeze in the international market and how can that resolve the price instability?
There is actually now a freeze. The OPEC cartel has come to agree that there should be a limit in production and that is responsible for the rally that you see in the oil prices today…it is tending towards the 50's reasonably. That is because the market is responding to the freeze that the cartel called for among its members
Do you see Ghana attracting more investment in its oil sector than Nigeria?
Ghana has successfully passed its industry bill and put a regulatory framework in place that is favourable to investors. But a question worth asking is what is the total production and reserves of Ghana compared to Nigeria?
The aspirational production from Ghana is still capping at 240,000 barrels per day. Nigeria potentially can do 3 million even though our 2016 average was 1.9m barrels per day we are probably doing 1.2/1.4 million now.
Their main field, Jubilee Field, contains expected recoverable reserves totaling about three billion barrels, the entire country reserve upside is not more than 5 billion barrels, so investors will always be more interested in Nigeria with 35 billion barrels in reserves.