Woman of many parts; fashion stylist, economist and more, Pearl Chidinma Ogbulu has refused to leave the limelight, as more and more daring stories continue to break about about her.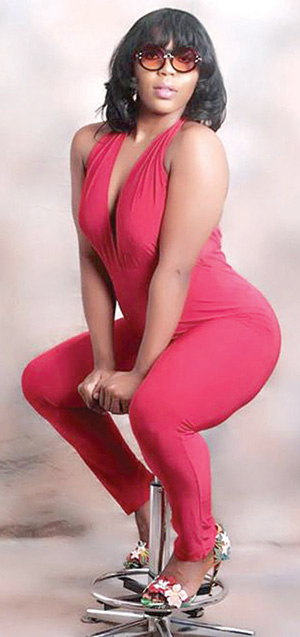 She first broke the internet when she told Broadway TV in a broadcast interview that she has never dated a man good enough in bed.
She followed up with another interview with Saturday Vanguard Star Tracker, where she did a sort of damage control on the Broadway interview by saying she can marry a man who's not good in bed, adding she would work with the man to make "his private part a better place for us". Now, she's back with another banger.
Chindinma Pearl Ogbulu is getting a butt lift surgery. It started as a rumour in some privileged circles but caught the ever-eavesdropping ears of Potpourri. As a platform worth its salt Potpourri went after the pretty personality and bingo it turned out to be a rumour with wings, very big wings.
" Yes, it is true," she confirmed. "In matter of days I will be having a butt lift surgery here in Nigeria. I seriously want my bum reshaped and enhanced, hence providing an attractive and prominent rear end.
A big enough one to boost any woman's self esteem. The era of the waif-life, model-thin body has passed. Thanks to celebrities like Jennifer Lopez and Kim Kardashian. Women are now aiming for an hourglass figure and that includes a trimmer and athletic-looking derriere," she added, explaining why she's going for the surgery
Of course, butt enhancement surgeries don't come cheap and the Anambra State-born lady who's soon putting up a reality TV show here in Nigeria and New York is chalking out some cool millions to get her desired rear bumpers.
"I'm doing the BBL here in Nigeria at Grandville Medlaser.
Why? Because I don't see why I should go to Miami and pay over seven thousand dollars, buy tickets, pay a caregiver and all when I can do it here in Nigeria and get all the care I need. Here, I'm only paying about three million nairas ," she said.
Subscribe for latest Videos