By Johnbosco Agbakwuru, Olasunkanmi Akoni, Daud Olatunji, Monsuru Olowoopejo, Dirisu Yakubu & Bashir Bello
ABUJA — AS Muslim faithful all over the world celebrate the feast of Eid-el-Kabir, President Muhammadu Buhari has appealed to Nigerians to keep aside their prejudices and strengthen the bonds of friendship and unity in order to keep the country united.
President Buhari also thanked Nigerians for praying for him for his recovery and the continuous extension of goodwill and support to him after his return to the country.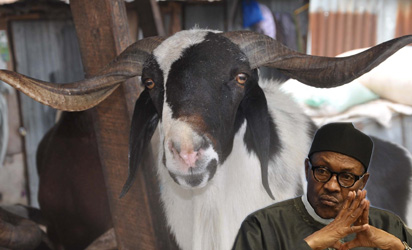 The President in the Sallah message he personally signed, felicitated with Nigerians, particularly Muslim faithful, on the celebration of this year's Eid-El-Kabir and also congratulated Muslim brothers and sisters who are currently in Saudi Arabia to participate in the rites of the Hajj.
He said: "From the outset, I want to use this opportunity to thank all Nigerians who prayed for my recovery and have continued to extend their goodwill and support after my return to the country.
"Indeed, your fervent and sincere prayers, which cut across religion, political and ethnic divides, has energised me to re-dedicate myself and this administration to the task of building a great Nigeria.
"On the joyous occasion of this year's Eid-El-Kabir  celebration, I appeal to all Nigerians to rise against the odds, keep our prejudices aside and strengthen the bonds of friendship and unity to keep our country together.
"For Muslims all over the world, this celebration is to commemorate the trials and triumph of Prophet (Abraham) Ibrahim.
"As we celebrate, I sincerely believe that our nation can make rapid progress on all fronts if we re-enact the exemplary virtues, typified by Prophet (Abraham) Ibrahim, through his sacrifice, patience, steadfastness, generosity and obedience to Allah's command and constituted authority.
"We must learn to see ourselves as brothers and sisters from the same heritage, who must come to terms with the African proverb that "a family tie is like a tree, it can bend but it cannot break."
Show love towards  one another —PDP
In its message, Peoples Democratic Party, PDP, National Chairman, Senator Ahmed Makarfi, called on Muslims in the country and Nigerians at large to be obedient to God and show love towards one another.
He said: "God in his infinite mercies and immeasurable powers has again afforded us the opportunity to celebrate yet another Eid-el-Kabir.  As we celebrate this auspicious occasion, I would like to urge us to exhibit the spirit of love, obedience to God and sacrifice, which are some of its hallmarks and historical significance."
Masari,  Ambode, Amosun preach peace
Similarly, Governor Aminu Bello Masari of Katsina State called on Nigerians to, in the spirit of Eid-el-Kabir celebration, bury their differences and restrain from utterances capable of jeopardizing the unity and togetherness of the nation.
He said: "It is important that we do not allow religious, ethnic or regional differences to blind us from our commonality, shared values and shared space."
On his part, Governor Akinwunmi Ambode in a message signed by his Chief Press Secretary, Mr. Habib Aruna, said the period of the celebration was a clarion call on Nigerians to imbibe the lessons of the season, such as selfless service to God and humanity, sacrifice and sincere commitment to righteous conducts in their private and public life.
In the same vein, Governor Ibikunle Amosun of Ogun State advised Nigerians to set aside all forms of religious, ethnic and tribal sentiments in the interest of unity, peace, progress and prosperity of the nation.
Amosun said:  "The Eid-el-Kabir presents an opportunity for us to reflect on the faith, with which Ibrahim (Abraham) willingly agreed to sacrifice his son and was set to let go of his personal belief, just in obedience to the command of Allah."
...CAN, Glo. too
In its message, Ogun State chapter of Christian Association of Nigeria, CAN, urged Muslim faithful to allow the lessons of the season penetrate their lives.
In the message signed by the Chief Press Secretary to the chairman, Tolulope Taiwo, CAN advised Nigerians to "adopt a spirit of living a selfless life for the purpose of moving our nation forward."
Also, Globacom in its  message, urged  all Nigerians to cultivate the habit of peaceful co-existence, in spite of the diversities in their religion, tribe and beliefs.
Pointing out the need for all Nigerians to unite and work for the rejuvenation of the country's economy, the company assured that it was providing the communications backbone for a sustainable and vibrant economy.