By Innocent Anabs
A Federal High Court sitting in Lagos, Friday, adjourned till September 22, to hear the application for the final forfeiture of four buildings in Lagos and River States and Abuja, valued at N2. 6billion, linked to the former Minister of Petroleum, Diezani Allison-Madueke and her associates.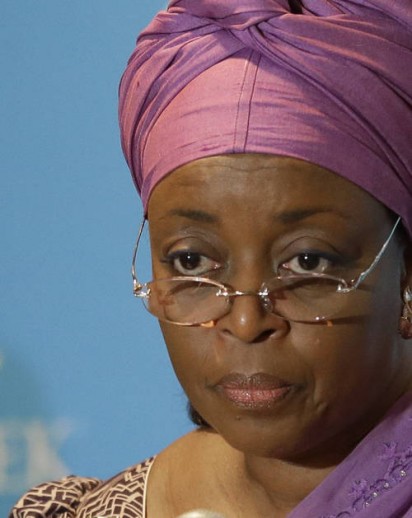 Trial judge, Justice Chuka Obiozor noted that application was filed byEconomic and Financial Crimes Commission, EFCC, to get the properties finally forfeited to the Federal Government.
Before adjourning, the judge noted that the court will on the same day hear the responses of the 3rd, 4th and the 6th respondents in the matter.
Earlier, counsel to the respondents, Emmanuel Bassey informed the court that there was a pending application requesting that the EFCC should serve the respondents with the ex-parte application which was used to secure the interim order of forfeiture of the said properties so that same can be responded to.
Bassey said that the request became imperative sequel to the order made by another vacation judge, Justice AbdulAziz Anka of the same court, wherein he declared that the ex-parte application be served on the respondents.
But counsel to EFCC, A.B.C Ozioko who stated that there was no such order mandating the commission to serve the ex-parte application on the respondents, argued that the companies involved have no directors and do not even exist.
Ozioko added "We had obtained an interim order in respect of this suit and the case adjourned until today (yesterday) for report and to also allow the respondents to show cause why the properties should not be finally forfeited.
"But this morning, we were served with a motion on notice by one Mr Nnamdi Eze Anochie. We ask for time to respond and to take the application for final forfeiture."
It will be recalled that Justice Anka had ordered that four buildings in Lagos and River States, and Abuja, valued at N2. 611, 592, 199 billion, linked to the former Minister of Petroleum, Diezani Allison-Madueke and her associates be temporary forfeited to the Federal Government for being purchased with alleged proceeds of corruption.
Respondents in the suit are: Mrs. Diezani Alison Madueke; Mr. Donald Chidi Amamgbo; Chapel Properties Limited; Blue Nile Estate Limited; Azinga Meadows Limited; and Vistapoints Property Development Limited.
The properties ordered to be temporary forfeited to the Federal Government are: 21 mixed housing units of eight numbers of four bedrooms penthouse apartment; six numbers of three bedrooms apartments; two numbers of three bedrooms apartment and one numbers of four bedrooms apartment, all ensuite, located at 7, Thurnburn Street, and 5 Raymond Street, Yaba, valued at N937 million.
Another property is a 16-four bedrooms terrace, located at Heritage Court Estate, Omerelu Street, Diobu GRA, Port-Harcourt, River State, valued at N928 million.
Another 13-three bedrooms with one room maid's quarter, situated at Mabushi Gardens Estate, Plot 1205, Cadastral Zone B06, Mabushi, Abuja, valued at N650 million; and six flats of three bedrooms and one boys quarter, located at Plot 808 (135) Awolowo Road, Ikoyi, lagos., valued at N805 million.
In an affidavit attached with the ex-parte application, and deposed to by Sambo Muazu Mayana, an investigator with the agency, the EFCC averred that sometimes in 2016, an intelligence report was received against both Diezani and Amamgbo, and that upon analysing the intelligence report, a search warrant was executed at the office and premises of Amamgbo.
The deponent also averred that among the documents recovered from Amamgbo was an undated report titled "Highly Confidential Attorney Work Product- August Report."