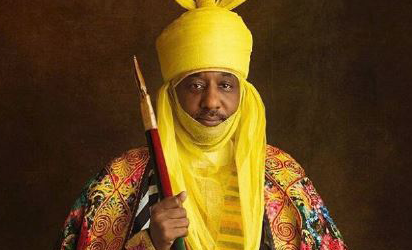 The Emir of Kano
BY DENMOLA AKINYEMI
THE Emirs of Kano and Ilorin, Alhaji Muhammad Sanusi and Alhaji Ibrahim Sulu-Gambari have called on the Federal Government to urgently look into the rising high cost of living in Nigeria, stating that Nigerians were experiencing hardship.
The duo made the calls separately in their Sallah messages in Kano and Ilorin where they urged the government to specifically address the exorbitant cost of consumable commodities in the country.
Sanusi prayed that the bumper harvest expected this year would bring succour to Nigerians.
He said: "We are grateful to Almighty Allah for consistent rain. May it bring the end of high cost of food items. People should avoid rumour mongering and other activities that may bring disunity among Nigerians. Youths should be responsible citizens and embrace different trades for self-reliance, as government cannot provide employment to all."
On his part, Sulu-Gambari lamented that it was becoming very difficult for the masses to eat three times daily due to the exorbitant cost of food stuff.
The Emir, who prayed for peace, tranquillity, and resuscitation of the nation's troubled economy, said "it is high time that our leaders across the three tiers of government acted on the escalating cost of food stuff."
He asked God to continue to guide the nation's leaders right so that the task of moving the nation forward would be easy for them.
While urging Nigerians to give their leaders necessary support, the monarch said that rejuvenation of the nation's economy was a collective responsibility of all Nigerians.
Earlier, in his sermon, the Chief Imam of Ilorin, Sheikh Mohammed Bashir Salihu who led the two- rakah prayer, urged the affluent to always cater for the needs of the poor in their localities.
He also enjoined public office holders across the country to make deliberate efforts towards ameliorating the suffering of the Nigerian masses. Salihu asked Muslims to continue to co- habit peacefully with the adherents of other faiths, saying that Islam abhors violence in all ramifications.
At Issa Elelu mosque along Murtala Mohammed Way, Ilorin, Imam Abubakar Waliy- Kamal, reminded Nigerian leaders that they were holding offices in trust for the electorate.
The Imam urged Muslims to reflect on the import of Eid-el Kabir and imbibe the spirit of sacrifice, tolerance, and obedience that brought about the festival.