By Emma Amaize, Regional Editor, South-South
YENAGOA—Niger Delta Revolutionary Crusaders, NDRC, a militant group in the Niger Delta, yesterday, rejected the call by the Pan Niger Delta People's Congress, PNDPC, and Reformed Niger Delta Avengers, RNDA, on the Convener of Pan Niger Delta Forum, PANDEF, Chief Edwin Clark, to step aside as leader of the oil region.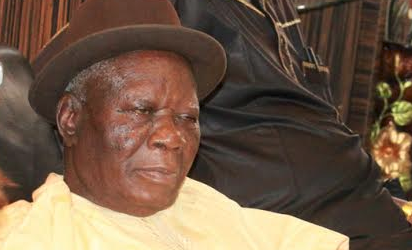 Rejecting the demand, the group in a statement by the spokesperson, W. O. I. Izon-Ebi, said that PANDEF and Clark remained the mouthpiece of the region and advised the Federal Government to "keep to its own side of the bargain by giving a specific timeline for the implementation of the various agreements reached on the region."
NDRC also called on Niger Delta Avengers, NDA, to break its silence on the feud between PANDEF and PNDPC "because its prolonged silence is seen as tacit support for the blacklegs and traitors in the region."
It said: "These so-called traitors of the Niger Delta are calling for Pa Clark to step aside because of his age. We want them to understand that the contributions of Pa Clark to the development of the Ijaw nation and the Niger Delta as a whole predates the six-year reign of Dr. Goodluck Jonathan and the formation of PANDEF.
"Their claim that Pa Clark was Goodluck's godfather is hogwash.
"It has no basis and not in tandem with the demand for resource control, justice and equity that the Niger Delta people are clamouring for, rather it is a distraction employed to thwart the collective aspirations of the Niger Delta region and its people.
"The fatherly and elderly statesman role of Pa Clark cannot and would not be sacrificed on the pecuniary altar of the blacklegs. The question is what does Pa Clark want at his age?
"It is time Niger Deltans put on their thinking caps and reason.
"If Pa Clark can be accepted by other stakeholders of the Niger Delta, irrespective of tribe, cutting across the six Niger Delta states, including state governors and distinguished personalities, then the antics of Chief Mike Loyibo, Coordinator of PNDPC, should be called to question."